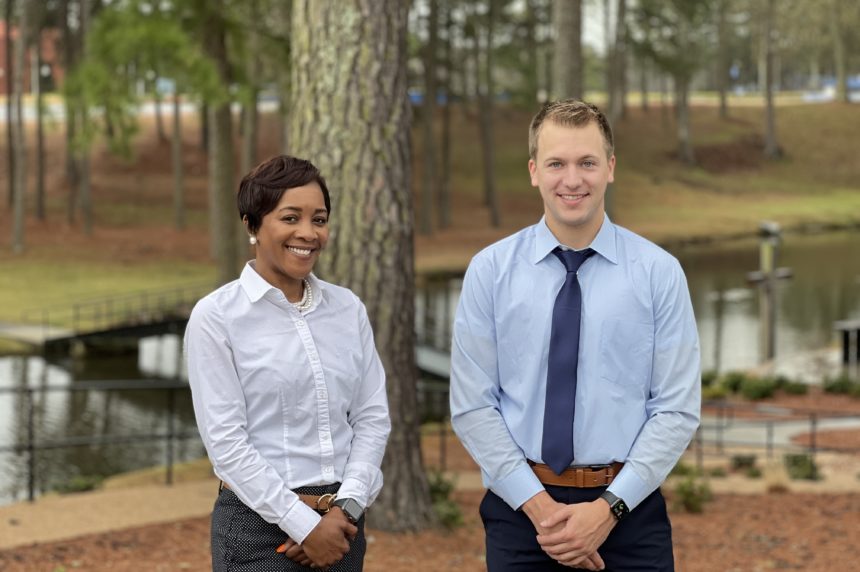 Chowan Admissions Welcomes Two New Hires
Mar 25, 2022
by Staff Reports
by Brooke Woods-Pennel, University Relations Intern
Chowan University is pleased to announce the hiring of Alisha Melton and Zachery Blore to the Admissions staff. Melton graduated from Chowan in 2015 and is excited to return as an Admissions Counselor. Blore is looking to further his career as a Campus Visit Coordinator and Admissions Counselor.
Originally from Gatesville, North Carolina, Melton earned a Bachelor of Science in Social Science in 2015. She went on to East Carolina University to earn a Graduate Certificate in Student Affairs and Higher Education and a Masters of Education in Adult Education. Melton was previously employed at Elizabeth State University as a Career Coach working on Project GAP. She is excited to return to her Chowan family. Melton holds the Adult Degree Completion Program (ADCP) close to her heart and is eager to enroll adult learners in her new position. Melton can use her own experiences at Chowan University to help adult enrollers feel at home just as she did.
Blore attended Penn State Behrend and earned a degree in marketing which will assist him in his new position. He previously worked at Coldwell Banker Seacoast Realty as a Real Estate Agent. Blore is looking forward to developing his career within a college campus. He shared that he is "extremely excited to be a part of the growth and development in students' lives." His job entails working with international students and he is eager to learn more about cultures and family dynamics outside of the United States.
"We are excited to have Alisha and Zac join the Admissions team. They both have already begun recruitment activities, and are connecting with students," said Director of Admissions and Financial Aid, Ruth Casper.
Chowan congratulates and welcomes Melton and Blore!