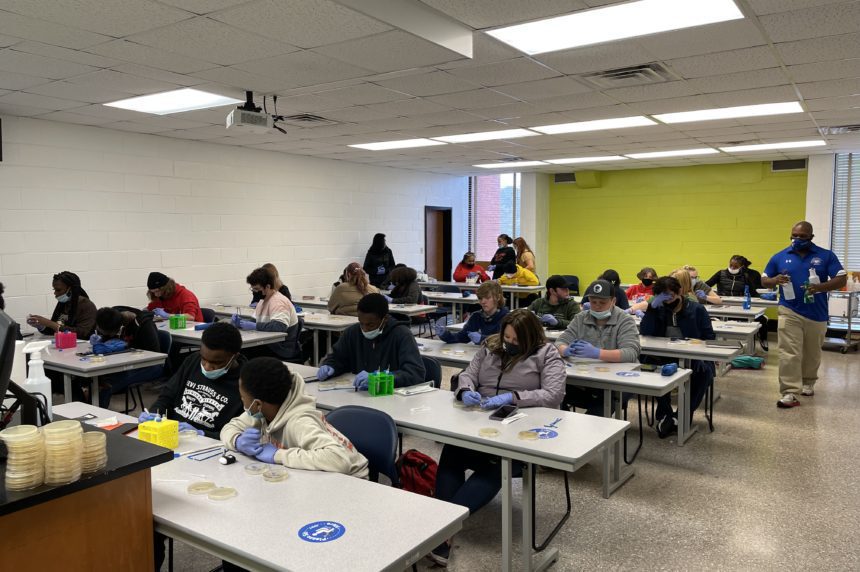 Gates County High School GEAR UP Visits Chowan University 
Mar 3, 2022
by Kim Sherman Bailey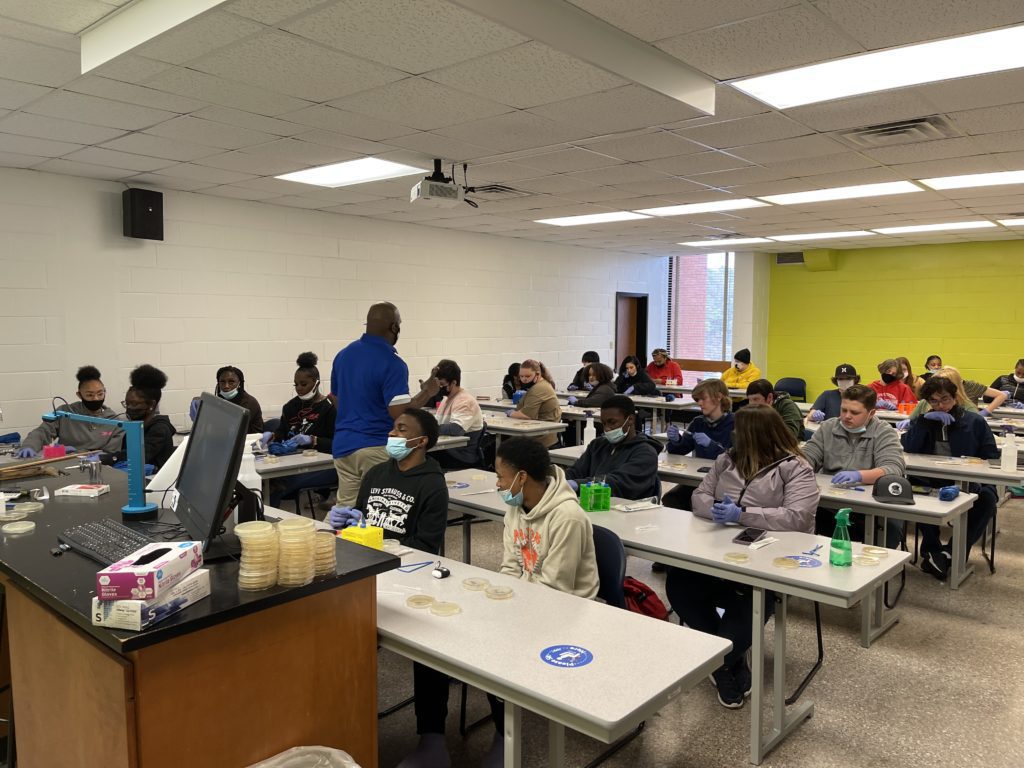 On February 23, 2022, thirty GEAR UP students from Gates County High School visited Chowan University.  Anna Eure, Associate Director of Admissions Data and Operations, organized the visit with Dr. Brenda Tinkham, Associate Provost of External Relations as an Academic Outreach event. 
The group toured the campus and ate in the dining hall with the Admissions Staff, then were able to participate in a science activity with Dr. Torrence Gill, Assistant Professor of Biology. "The activity with Gates County High School students was testing their phones for the presence of microorganisms," shared Dr. Gill. " Specifically the presence of bacteria, fungi, or yeast. We were trying to emphasize that microbes can be found on all surfaces and establishing routine sanitization habits could prevent students from becoming sick. I was also trying to emphasize that using 70% ETOH to disinfect your phone would be effective in reducing microbe numbers instead of water. Some students used water to clean off the phone, and in reviewing their agar plates, one can see that water did not disinfect."
This is one of the first groups to be back on campus since March 2020 amid the coronavirus. Dr. Tinkham shared, "it was great seeing students on our campus once again, touring, having lunch, and being in a "college/university" classroom doing "stuff," as they say, not just "sittin' and gittin'." In these experiences, students realize that hands-on learning can be fun. Dr. Gill is a wonderful role model and is always excited about these activities and willing to take part."
About GEAR UP
GEAR UP is a national college access initiative that directly engages students in partner schools with academic readiness and college admission support over the course of their middle school and high school careers. The program has proven to significantly increase the number of students in disadvantaged communities who are prepared to enter and succeed in postsecondary education. Mentorship continues for students as college freshmen. Additionally, GEAR UP NC engages 12th-grade students with support through a full-time onsite college advisor.
About Chowan University's Academic Outreach Program
The Academic Outreach program is a public service of Chowan University. The purpose of the program is to facilitate interactions between the faculty of Chowan University and the faculty and students of the public and private schools.
The strength of an institution is measured in a variety of ways. One of the best indicators of the quality of a university is its faculty. For more than 170 years, Chowan University has been fortunate to attract first-rate professors. Our faculty members' enthusiasm for their academic disciplines is reinforced by their desire to share their expertise with students both on and off our campus. Our faculty will bring the classroom to you, or we invite you to our campus.
Through Academic Outreach, you gain access to more than 250 topics that Chowan faculty have agreed to present, as a courtesy, to schools and community organizations. Whether you are interested in learning about "College Success Tips" or "Ecosystem Ecology," there is sure to be a topic that meets your school's needs. We are confident that you will find the presentations interesting and of value to students, teachers, and administrators.
The topics offered by our faculty are specific to disciplines or departments of the university. However, if there are topics not listed that you wish to have offered, contact us and we will be glad to assist you in developing the program and providing a speaker.
We look forward to hosting you and your students on our campus, or we would be delighted to bring the classroom to you. Visit https://www.chowan.edu/academics/academic-outreach/ to learn more.