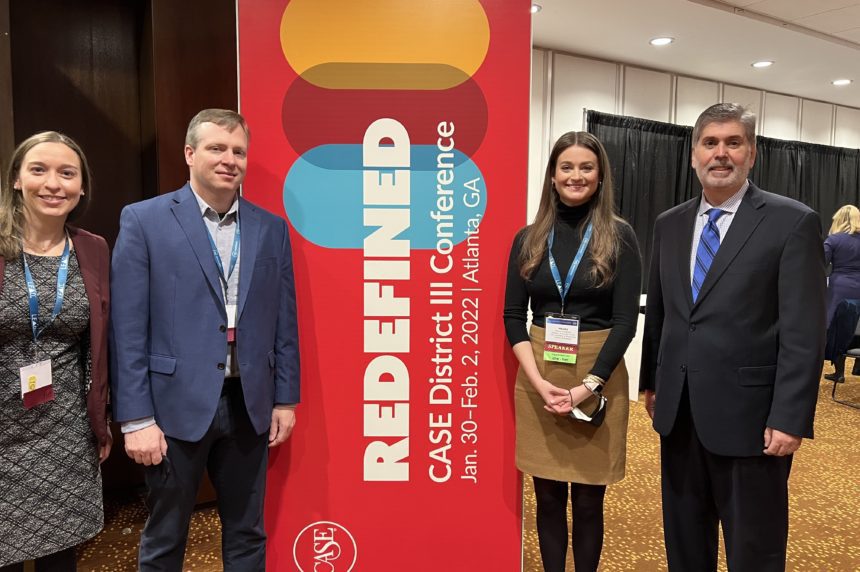 Left to Right, Jenna Civitello, Director of Alumni and Constituent Giving, Emory University, Brian Gawor, Vice President, Research, Ruffalo Noel Levitz, Maura Langhart, Director of Annual Giving, University of Mississippi, and Andy Wilson, Vice President of Advancement, Chowan University
Andy Wilson Presents in Three Sessions at CASE District Conference
Feb 15, 2022
by Kim Sherman Bailey
Andy Wilson, Vice President for Advancement was selected to lead three sessions at the CASE District III Annual Conference: Redefined. The District III Annual Conference was held in Atlanta, Georgia from January 30th through February 2nd and over 750 professionals attend.
Wilson's first session was titled "Analytics – the basics and how any shop size or budget can do it." The newest advancement tool to help in fundraising is analytics. Wilson shared how math can help one succeed in soliciting donations. Attendees for this session left the conference with all the tools needed to build a model for a database to raise more money and manage their time better.
In the second session, Wilson joined Jenna Civitello, Director of Alumni and Constituent Giving, Emory University; Maura Langhart, Director of Annual Giving, University of Mississippi; and Brian Gawor, Vice President, Research, Ruffalo Noel Levitz (RNL) to lead "Crowdfunding Your Way to a Better Donor Experience." In this session the three professionals teamed up with RNL Vice President for Research, Brian Gawor to share their experiences with the RNL platform, Crowdfunding, including establishing a platform, recruiting projects, working with volunteers and campus leaders.
In the pre-conference sessions, Wilson shared the "Top Ten "I Wish I Knew" When I Started in Advancement." In this session, the 30-year veteran shared a few of his "I wish I knew" things about when he started in the field. He shared with the young professionals that in their Advancement journey, they will undoubtedly run into situations that might be perplexing or where one might not have a ready answer, but having heard how others handled particular situations, may make them better prepared.
Wilson is in his second year at Chowan University. Last year, Chowan was selected for a grant that he wrote, which allowed for the entire Advancement Team to attend the virtual CASE All Districts Conference.
About CASE
The Council for Advancement and Support of Education is the global non-profit association dedicated to educational advancement—alumni relations, communications, development, marketing, and advancement services—who share the goal of championing education to transform lives and society.
To fulfill their missions and to meet both individual and societal needs, colleges, universities and independent schools rely on-and therefore must foster the good will, active involvement, informed advocacy and enduring support of alumni, donors, prospective students, parents, government officials, community leaders, corporate executives, foundation officers and other external constituencies.
CASE helps its members build stronger relationships with all of these constituencies in a number of ways.