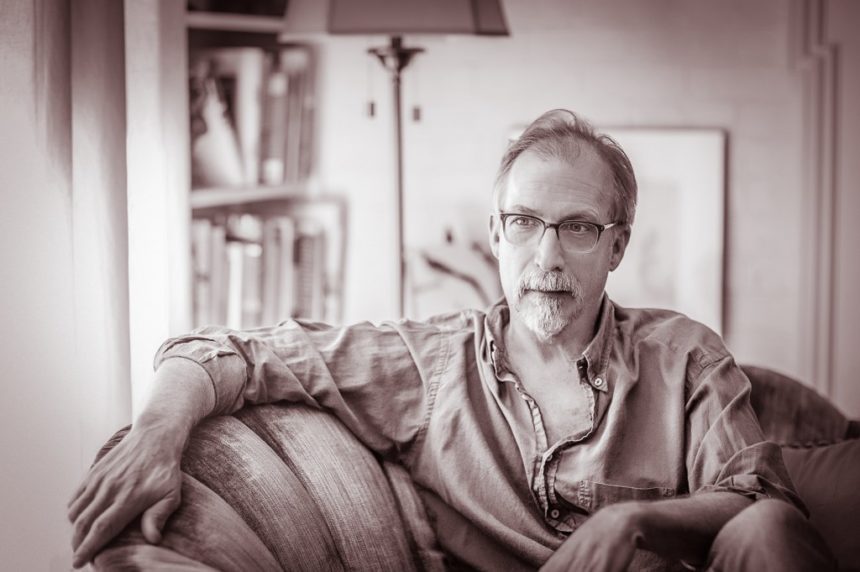 Photo by Iman Woods
2022 Hobson Prize Winner Announced
Feb 14, 2022
by Staff Reports
Chowan University is pleased to announce that Daniel Wallace is the recipient of the 2022 Mary Frances Hobson Prize for Distinguished Achievement in Arts and Letters. In making the announcement, the Hobson Prize Selection Committee noted, "A Daniel Wallace novel lures readers quickly into the story and its magic holds on to their imagination until they realize that nothing is what it seems to be."
Initiated in 1995 by the Hobson Family Foundation of San Francisco, the award serves as a memorial to Mary Frances Hobson (1912-1993), a journalist and poet, who was the first woman to receive the Algernon Sydney Sullivan Award in journalism from the University of North Carolina. Previously honored recipients are Kaye Gibbons (1995), Mark Richard (1996), Jill McCorkle (1997), Randall Kenan (1998), G.D. Gearino (1999), Amy Hempel (2000), Allan Gurganus (2001), Padgett Powell (2002), Sheri Reynolds (2003), Chuck Sullivan (2004), Sheila Moses (2005), Michael Parker (2006), Josephine Humphreys (2007), Judy Goldman (2008), Darnell Arnoult (2009), Lee Smith (2010), Robert Morgan (2011), Silas House (2012), Joseph Bathanti (2013), Sharyn McCrumb (2014), Dorothy Allison (2015), Edward P. Jones (2016), Kevin Wilson (2017), and Jim Grimsley (2018(2015), Edward P. Jones (2016), Kevin Wilson (2017), Jim Grimsley (2018), Wiley Cash (2019), Crystal Wilkinson (2020), and Michel Stone (2021).
The annual event brings the university and community together each spring to celebrate the accomplishments of an author of the South or who writes about the South. The prize will be conferred on Thursday, April 7, at 6:00 p.m. at a dinner in the Chowan Room in Thomas Dining Hall. Following the dinner and conferral, Wallace will deliver the Hobson Lecture at 7:30 in Vaughan Auditorium in Robert Marks Hall.
Born and raised in Birmingham, Alabama, Daniel Wallace is a fiction writer known for exploring the genre of magical realism through stories that are funny, yet serious. Wallace attended Emory University and the University of North Carolina at Chapel Hill, where he initially majored in business, but later earned his degree in English.
In 1998, Wallace published Big Fish, a novel set in a small Alabama town. Columbia Pictures acquired the rights to the novel, which was released as a Tim Burton directed film in 2003. A Broadway musical premiered in 2013.
Wallace published his second novel, Ray in Reverse, in 2000. It is the story of Ray, told backward. In 2003, Wallace returned to the town portrayed in Big Fish with the publication of The Watermelon King. His fourth novel, Mr. Sebastian and the Negro Magician, published in 2007, recounts the adventures of a once world-famous illusionist. It was awarded the Sir Walter Raleigh Prize for best fiction published in North Carolina. In 2013, The Kings and Queens of Roam, a modern folk tale, was released. His most recent novel, Extraordinary Adventures, was published in 2017. It tells the story of Edsel Bronfman, an ordinary, if not eccentric, man. In 2018, Extraordinary Adventures was chosen as the best fiction published by a native Alabamian.
Wallace's short stories have appeared in Tin House, One Story, Glimmer Train, The Massachusetts Review, The Yale Review, Shenandoah, and The Georgia Review. They have been recognized in Best American Short Stories and Best Stories from the South. He has also published essays and written and illustrated children's books, including O Great Rosenfeld! and The Cat's Pajamas. His memoir, This Isn't Going to End Well, will be published by Algonquin Books in 2023.
The recipient of the 2019 Harper Lee Award, which is "given to a living, nationally recognized Alabama Writer who has made a significant lifelong contribution to Alabama letters," Wallace is the J. Ross MacDonald Distinguished Professor of English at the University of North Carolina at Chapel Hill, where he directs the Creative Writing Program.