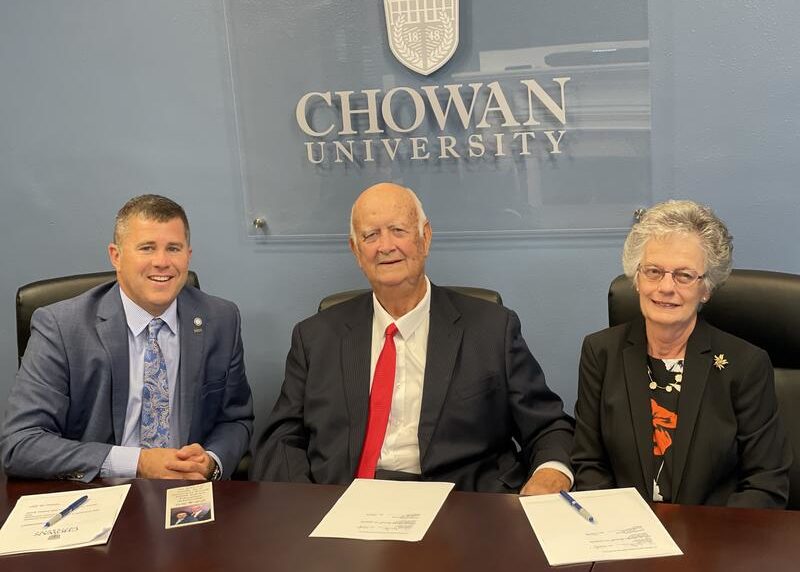 Newlyweds Begin Scholarship to Chowan University as a Wedding Gift
Nov 12, 2021
by Lou Ann Gilliam
Newlyweds Begin Scholarship to Chowan University as a Wedding Gift
In celebration of their marriage on October 16, 2021, James "Jimmy" W. Smith '67 and Linda Motley Smith gave each other a gift, a scholarship to Chowan University.
The newlyweds have established the Friends of Teacher Education John Lee Smith, Sr., and Genevieve Brown Smith Science Education Scholarship. The scholarship is named in memory of Jimmy's parents.
Genevieve Brown was a student at Chowan graduating in 1935. Even though John was not a student at Chowan he spent plenty of time on the campus, while they courted.
Genevieve was a committed educator for over thirty-five years, serving as a teacher and a principal. Even though John's formal schooling ended in the fourth grade, he valued education. He provided for all five of his sons to go to college through his hard work as a successful peanut farmer. Three out of the five boys attended Chowan. Jimmy graduated from Chowan in 1967 with an associate in arts degree and transferred to Campbell College (now Campbell University) graduating with a degree in Science Education.
Jimmy values education and enjoys investing in students. He taught Chemistry in Camden County for 18 years. Now, he and Linda want to support students who desire to be educators. They know that this scholarship would delight his much-loved parents.
At their wedding, the happy couple invited folks to give the scholarship instead of traditional presents. Combining two households, they laughed that they already had two toasters. After their honeymoon, Jimmy and Linda came to Chowan with a gift to start the scholarship and look forward to helping it reach the endowment level.
To learn more about this scholarship or the Friends of Teachers Scholarship Program, you may contact Executive Director of Major Gifts and Planned Giving, John M. Tayloe at 252-398-1232 tayloj1@chowan.edu.