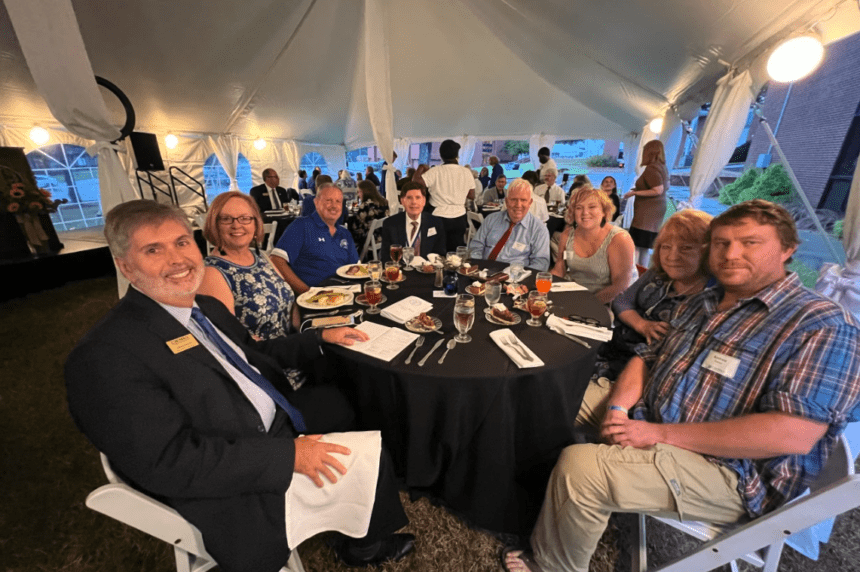 Chowan University Announces the 2021 Distinguished Alumni and Community Service Award Recipients
Oct 29, 2021
by Staff Reports
Chowan University Announces the 2021 Distinguished Alumni and Community Service Award Recipients
During halftime of the Homecoming 2021 game on October 16th four special guests were recognized: 2021 Distinguished Alumni Award Recipients Winslow Carter, '71 and Ann E. Levy, '83, '95, 2021 Young Alumnus Award Recipient Austin Tallant, '14, and 2021 Community Service Award Recipient Sallie Pait Surface. A dinner followed the game where each recipient had family and friends accompany them, had their award presented by Dr. Kirk Peterson, President of the University, and gave an acceptance speech.
Winslow Carter, a native of Jacksonville, NC entered Chowan College in the fall of 1969 to begin his post-high school career. Winslow shared, "It was the best choice I could have made." He is a first-generation college student, as his parents only had a 5th and 6th grade education. At Chowan, he added, "I was given the care, attention, and personal attention I needed to succeed. I owe Chowan more than I can ever pay back." In 1971, Winslow received his Associate of Arts from Chowan, and in the fall of 1971, he entered Campbell College (now Campbell University). "Chowan had prepared me well. I did very well at Campbell and majored in History Education and graduated in 1973. I was the Baptist Student Union President at both Chowan and Campbell Colleges," stated Winslow. He worked at Chowan College as Admissions Director for eight years. He then moved to Chapel Hill, NC where he worked for 22 years as a high school Career Counselor at Chapel Hill and East Chapel Hill High Schools. He retired in 2014 with a total of 42 years in education
Ann E. Levy was born in Jamaica, West Indies. She moved to the United States when she was 13 years old and when she was 25 years old, she came to Murfreesboro with a desire to complete her college degree. She began attending Chowan College in August 1982 and graduated in May 1983 as a Business Administration major. In 1993, Chowan transitioned to a four-year university. At that time, she was employed at Beaufort County Department of Social Services as an Income Maintenance Caseworker II. Ann made a written request to the Director and he approved for her to attend Chowan on her lunch hour. She re-enrolled and attended classes during her lunch hour as well as evening classes. One day in 1994, Mrs. Wallace shared with Ann a great opportunity that came across her desk – the Federal Government was scouting for college students who wanted a career with the Federal Government. She encouraged her to compete for the position. Ann took her advice and out of 600 applicants from three other colleges, Ann was selected for the position and started her career with the government in June 1994. Ann said, "I will be forever grateful to Chowan University, Mrs. Dorothy Wallace, and others at Chowan who played a vital part in my education." Ann graduated with my 4-year degree in Business Administration in May 1995. "Since my graduation from Chowan, I have worked in my community as a foster parent of eight children and adopted two. I have served on the Chowan Alumni Council for years and enjoy it tremendously." On May 31, 2021, Ann retired from the Social Security Administration after 27 years and recently acquired her State License to sell Life Insurance Policies and will go on to study and take the State Exams to work with investments with Primerica.
Austin Tallant, a native of Phoenix, Arizona, is a former Hawk long snapper. He graduated in 2014 with a degree in Physical Education. At Chowan, in 2011 and 2012, Austin was Special Teams Player of the Year and in 2012 he received the Presidential Athletic Excellence Award recipient. In 2013, Austin was Presidential Athletic Excellence Award recipient, Faith in Your Future Award recipient, Excellence in Leadership Officer Award recipient, and Allstate AFCA
Good Works Team Member at the 2013 Sugar Bowl in New Orleans. Austin supports his alma mater as a member of the Brave Hawks Club and served as a Chowan Champion during the 2021 Day of Giving. After four years at Chowan from 2010-2014, Austin returned to his home in Phoenix, AZ, and quickly worked his way up through Booster Enterprises from a part-time job to General Manager of the Southwest Team. Like countless others in 2020, Austin was involved with a major company layoff with Booster which led him to Ramsey Solutions, where he's been for all of 2021. Austin shared that he is eternally grateful for his time at Chowan; going from the west coast, the big city of Phoenix to the small town of Murfreesboro was not always easy but just what God had planned for him. His four years at Chowan developed his faith, molded him as a young man, and provided him with lifelong memories of both athletic accomplishments and God's faithfulness. Austin currently lives just outside of Nashville in Nolensville, TN with his wife Caelen and daughter Reagan.
Sally Pait Surface began her thirty-eight-year career in 1983 at Choanoke Area Development Association, of NC, Inc., (CADA), a private, non-profit corporation that has served Northeastern North Carolina-Bertie, Halifax, Hertford, Martin, and Northampton Counties-since 1962. The late Dr. Bruce E. Whitaker, Chowan President Emeritus, was one of the founders and first President of the inaugural CADA Board of Directors. As the Executive Director of CADA from 1991-2021, Ms. Surface facilitated partnerships to assist families and communities to build assets and a better quality of life. Ms. Surface, a graduate of Wake Forest College-now University, has had additional training in Economics and Community Development. She is a graduate of the Rural Economic Development Institute and the Center for Creative Leadership and has served on the Board of Directors for the North Carolina Low-Income Housing Coalition, North Carolina CRANC (Community Reinvestment Act), and the PNC Eastern North Carolina Advisory Board.
Currently, Ms. Surface as a Senate appointee serves as Vice-Chair of the North Carolina Housing Partnership Board that provides oversight of the North Carolina Housing Trust Fund, and is a member of the NC Weatherization Assistance Program Advisory Council. She has been a presenter/facilitator for local, state, and national conferences such as the National Rebuild America Conference, National Affordable Energy Conference, and National Weatherization conferences. She has been featured in the Wall Street Journal for her advocacy for rural banking services as many rural communities are becoming un-banked. Ms. Surface received the 2006 Outstanding Rural Leadership Award presented by the NC Rural Economic Development Center and the Rural Economic Development Organization. In April 2015, Governor Pat McCrory conferred the Order of the Long Leaf Pine to Ms. Surface for over 30 years of service to the citizens of North Carolina. She was inducted into the North Carolina Community Action Hall of Fame in 2004. The CADA Board of Directors has bestowed on Ms. Surface the title of Executive Director Emeritus. The counties' CADA serves acknowledged her leadership and declared August 22, 2021, Sallie Surface Day, and on that date, the CADA Board of Directors renamed the CADA Administrative Office, Rich Square, NC, the Sallie P. Surface Complex.
Ms. Surface and her late husband, Dan Surface, Chowan Coach, Athletic Administrator, and Professor Emeritus-and for whom two endowed Chowan scholarships are named. They have three children: Dr. Eric Surface, a former member of the Chowan Board of Visitors, Julianne Surface, and Brian Surface, a Chowan University Graduate. The Dan and Sallie Surface History Lecture Series at Chowan has been endowed in their memory and honor by family friend Warren Chauncey. Ms. Surface encourages all to "bloom where they are planted" and work for extraordinary results in ordinary places through partnerships.
Please join Chowan University in congratulating this year's Distinguished Alumni and Community Service Award winners.