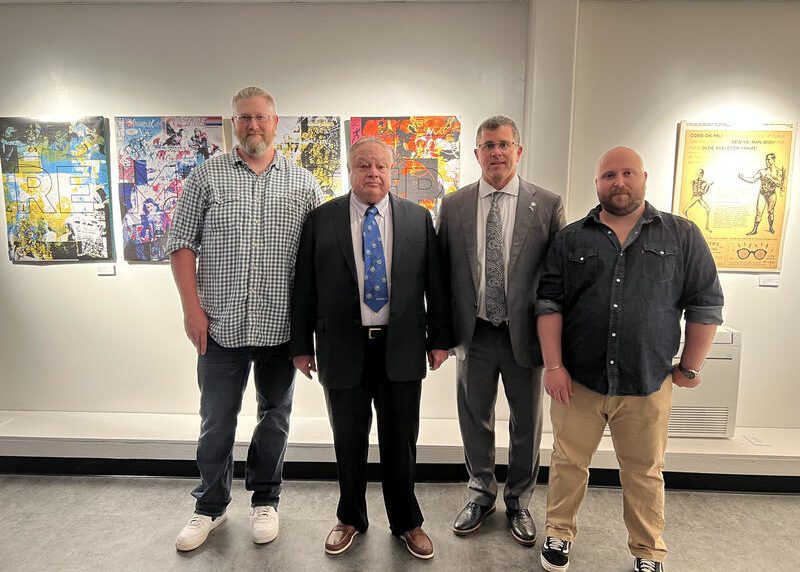 New Galleries Celebrated with NostalgiaVision Opening at Chowan University
Oct 28, 2021
by Staff Reports
New Galleries Celebrated with NostalgiaVision Opening at Chowan University
The Chowan University community celebrated the newly remodeled Juanita Kelly Pond and Charles & Frances Hinnant Galleries in Green Hall on Thursday, October 14. The celebration was held as a part of the opening of the NostalgiaVision exhibit featuring the work of graphic designers Owen Cassidy and Jimmy Henderson.
President Dr. Kirk Peterson opened the celebration by thanking Board of Trustee member and lead contributor to the project, Mr. Charles Pond '62 for his "amazing love of the University and the arts." Dr. Peterson shared that the success of this project was due to the generous support of alumni. He recognized others that contributed to this renovation, including an estate gift from the Frances C. Hinnant Trust which made it possible to name one of the galleries the Charles and Frances Hinnant Gallery. Other donations and an anonymous estate gift allowed for renovations of the common areas on the main floor in Green Hall.
After Dr. Peterson's remarks, Mr. Pond shared that he was pleased to donate to this project in memory of his late wife, Juanita Kelly Pond. He expressed that Juanita, a retired teacher, loved art and would be honored that this renovation was done in her memory.
Continuing the celebration, graphic designers Owen Cassidy and Jimmy Henderson gave the artist talk. They were delighted to collaborate for the NostalgiaVision Exhibit for this newly renovated space. Jimmy Henderson, a graphic designer, illustrator, and avid collector of vinyl toys and matchbooks earned his BS in Marketing Management and BFA in Studio Art from Virginia Tech and his MFA in Graphic Design from the Vermont College of Fine Arts. Owen Cassidy, an audio/visual designer, holds a BFA in Communication Design from Schreiner University and an MFA in Graphic Design from Vermont College of Fine Arts.
Cassidy and Henderson discussed that NostalgiaVision was a reaction to the pandemic and desired for the exhibit "to invoke memories of a simpler time when the issues of the world didn't feel as heavy." Cassidy designed his portion of the exhibition through the overlaying of images and videos of him skateboarding and of his grandfather. Also included are numerous screenshots from his video compilation. Henderson combined his love for cartoons and his childhood toys and created designs from them that have the feel of 1940's print ads.
The public is invited to view NostalgiaVision in Green Hall now until November 18, 2021. Green Hall is open, Monday through Friday from 9:00 am to 5:00 pm. For more information on the exhibit, you may contact Assistant Professor of Art and Green Hall Galleries Director Rob Buller at buller@chowan.edu.
To view highlights from this event go to this link.