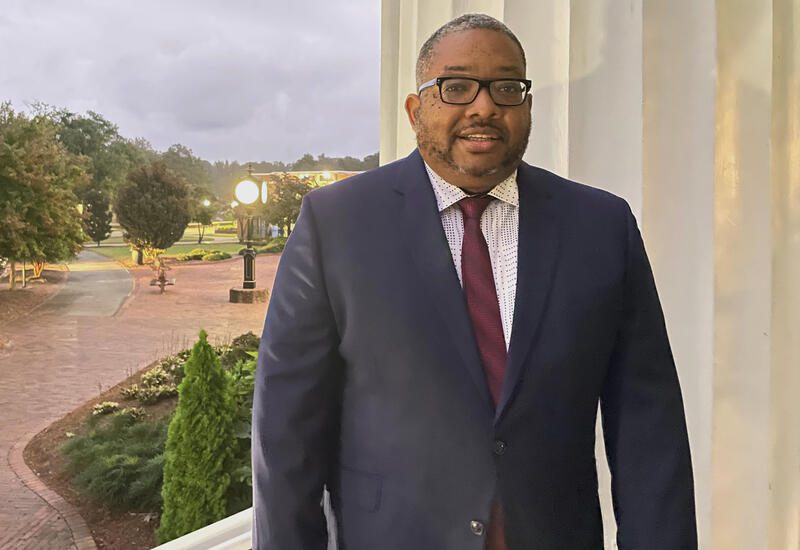 Homecoming 2021 Worship Service features Hertford County Public School Superintendent, Dr. William Wright
Oct 13, 2021
by Lou Ann Gilliam
Homecoming 2021 Worship Service features Hertford County Public School Superintendent, Dr. William Wright
Chowan University's Homecoming 2021 was "kicked off" with a worship service on Tuesday, October 12, hosted by Campus Ministry and Student Life. This annual event featured Hertford County Public Schools Superintendent Dr. William Wright, who has served in this role since 2015. The Northeastern Regional Education Service Alliance recently recognized Dr. Wright as the 2020-2021 Superintendent of the Year.
Opening the evening, the Sapphires, Chowan's cheer team, led with two cheers. Following this energetic squad, Minister to the University, Rev. Mari Wiles gave a welcome, introducing the student-led ministries and also guest speaker Dr. Wright. After Rev. Wiles gave the invocation, the Mimes of God shared through mime the song "You Know my Name" by Tasha Cobbs Leonard.
Junior, Jaylon Boyd, number 34 on the football team and chaplain, then gave his testimony. Boyd shared about the adversities he has been through during his college career and how God has given him "the strength to get back up." Following Jaylon's testimony, Daughters of the Most High, led in worship with a praise dance to "Live Through It" by James Fortune.
Before Dr. Wright came to deliver the sermon, Instruments of Praise Gospel Choir led in song, "Nobody Like You Lord" by Maranda Curtis. Dr. Wright, who is also an adjunct professor in the Education Department at Chowan, began his remarks very candidly. He encouraged students to persevere in their academic journey by sharing his first attempt at college was not successful. Later he returned to the classroom pursuing a degree as an educator and eventually earning his doctorate at NC State.
Continuing with vulnerability, Dr. Wright recounted his harrowing experience with cancer which began at the start of the Covid-19 Pandemic in March 2020. He credited his faith and his wife, Mary Wright, with getting him through those dark days. He talked about his faith and cited Hebrews 11:1 that "faith is the substance of things hoped for and the evidence of things not seen." Dr. Wright then transitioned to his primary text, Matthew 17:19-20, saying that this text documents a moment when "Jesus was asking the disciples to step up their game" and to "have mustard seed faith."
From this text, Dr. Wright explained about mustard and its useful benefits not just as a condiment but also for healing. He encouraged students to "be like the unforgettable taste of mustard." He also advised them as they have challenging times, that "mustard seed faith would give them strength to have resolve and resolution."
Rev. Wiles thanked Dr. Wright for his message and then concluded the worship service with a benediction reminding worshipers to go forth and "love like Jesus." Guests and students were then invited to partake in a snack supper of pizza and cookies.