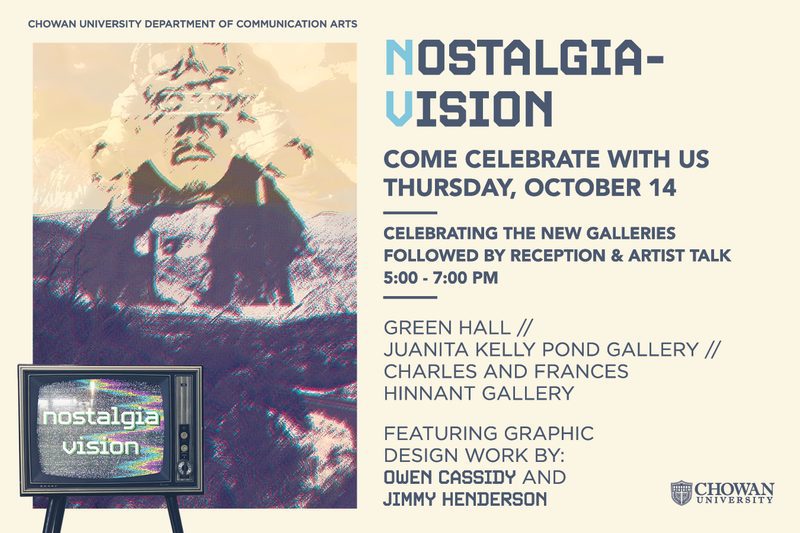 Chowan University Celebrates New Galleries with NostalgiaVision Exhibition
Oct 1, 2021
by Staff Reports
Chowan University Department of Communications Arts is pleased to host the NostalgiaVision exhibit opening on Thursday, October 14 from 5 to 7 pm. This show will feature graphic design work by two renowned graphic designers, Owen Cassidy and Jimmy Henderson. The opening will begin with a celebration of the newly remodeled Juanita Kelly Pond and Charles & Frances Hinnant Galleries followed by a reception and artist talk.
Through generous gift support primarily from Chowan alumni Charles B. Pond, III, the Frances C. Hinnant Estate, and an anonymous estate gift, the galleries and common areas on the main floor in Green Hall have been totally renovated. 
At the opening, artists Owen Cassidy and Jimmy Henderson will share about their work. They describe NostalgiaVision as "the sensory crossroads of pop culture, memory, and aesthetic familiarity. A combination of graphic visuals and sound, NostalgiaVision seeks to invoke memories of a simpler time when the issues of the world didn't feel as heavy and the biggest decision you had to make was what kind of cereal to eat while watching Saturday morning cartoons."   
On opening night guests will have the opportunity to learn from both artists. Jimmy Henderson is a graphic designer, illustrator, and avid collector of vinyl toys and matchbooks. He earned his BS in Marketing Management and BFA in Studio Art from Virginia Tech and his MFA in Graphic Design from the Vermont College of Fine Arts. His design work focuses on visualizing pop culture and social issues and his research is centered on pedagogy, the portfolio process, and the implied educational contract.
Owen Cassidy is an audio/visual designer and artist dead set on pushing the preconceived boundaries of these respective realms. He holds a BFA in Communication Design from Schreiner University and an MFA in Graphic Design from Vermont College of Fine Arts.
This event is open to the public. Masks are required. The NostalgiaVision exhibit is on display in Green Hall October 14-November 18, 2021.