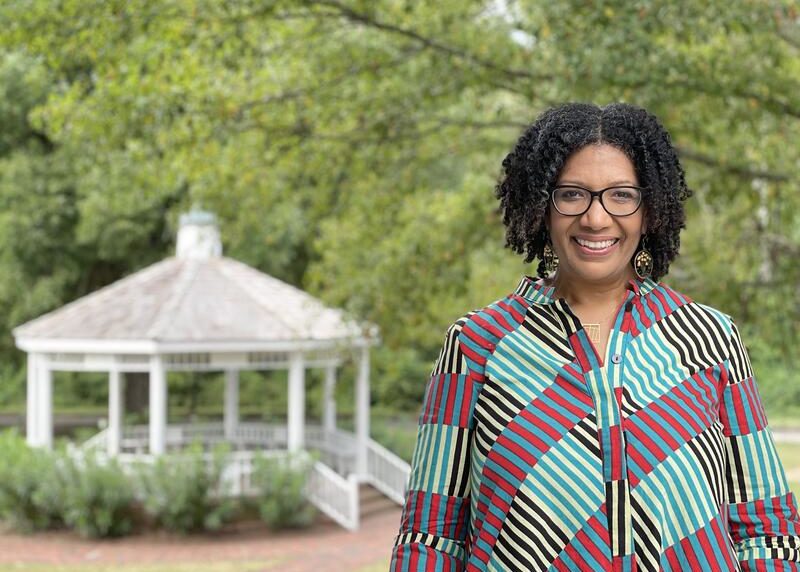 Chowan University Hosts Lisa Sharon Harper for Taylor Religious Heritage Lectures
Sep 25, 2021
by Staff Reports
Chowan University Hosts Lisa Sharon Harper for Taylor Religious Heritage Lectures
Chowan University was pleased to host Lisa Sharon Harper as the 2021 Taylor Religious Heritage Lecturer on Monday, September 20, and Wednesday, September 22. Ms. Harper is a speaker, writer, activist, and artist. Ms. Harper earned her master's degree in Human Rights from Columbia University in New York City and she is the founder and president of FreedomRoad.us.
Monday's lecture began with a greeting from the university president, Dr. Kirk E. Peterson, followed by a scripture reading of Genesis 1:26-31 by junior, Zaire Wilson-Barnes. Following the reading, senior Kennisha Wall mimed "You Will Win," by Jekalyn Carr. Next, Minister to the University, Rev. Mari E. Wiles introduced Lisa Sharon Harper and shared the origin of the Taylor Religious Heritage Lectures which was created and endowed by Dr. Hargus and Mrs. Doris Taylor.
During her lecture the "Four Words that Changed Everything," Ms. Harper began her remarks about her enslaved great-great-grandmother, Leah Ballard. The more Ms. Harper learned about her grandmother, the more she reflected on what "good news" would have meant for a woman living in slavery. From that opening, Ms. Harper shared the meaning of four Hebrew words, "tov m'od," "tselem," "radah," and "dmuwht" in Genesis chapter 1. These words encouraged her to write what it means to be made in the image of God. Much of her lecture was based on her book, The Very Good Gospel: How Everything Wrong Can Be Made Right. After Ms. Harper concluded, senior Miyah Eley gave the benediction.
Vice President for Student Affairs, Dr. Montrose Streeter opened Wednesday's lecture with a greeting and invocation. Psalm 85 was then read by Jason Villegas '10, pastor of Murfreesboro United Methodist. Senior Diamond Martin shared in song "Fill Me Up" by Tasha Cobbs. Rev. Wiles then introduced Ms. Harper sharing that in 2015, the Huffington Post named Ms. Harper one of 50 powerful women religious leaders."
Ms. Harper's presented her lecture entitled "The Beloved Community." The title and intent came from Dr. Martin Luther King Jr.'s call for a beloved community where racism would be no more and that all could experience the kingdom of God. Much of Ms. Harper's lecture was based on her book, Fortune: How to Repair the World that Racism Broke, which is scheduled for release in February 2022. Following Ms. Harper's lecture, Lou Ann Gilliam, director of Church and Community Relations gave the benediction.
The Taylor Religious Heritage Lectureship was established in 1994 by Rev. Dr. R. Hargus and Mrs. Doris T. Taylor for the Chowan University community. The Taylors faithfully served Chowan as employees and also as donors. The late Dr. Taylor served as chaplain and later chair of the Religion Department. Mrs. Taylor served as a librarian.