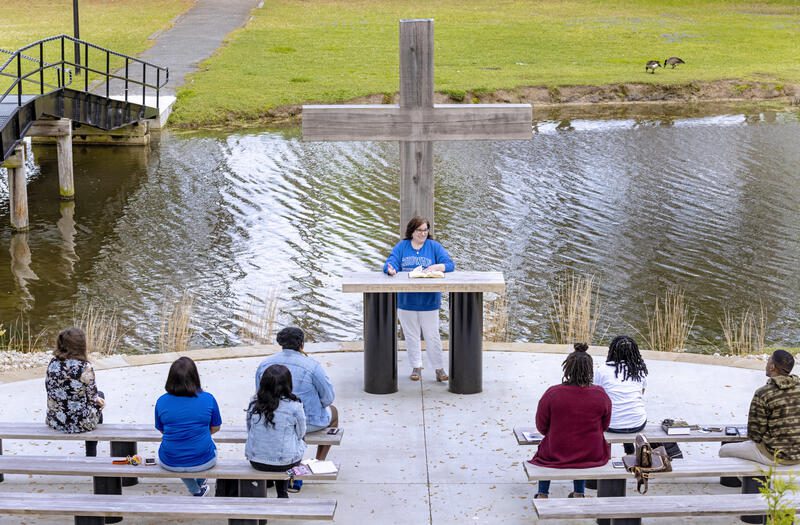 Chowan University has Record Fundraising Year
Jun 25, 2021
by Staff Reports
Chowan University saw significant increases in both the number of donors as well as total giving for the fiscal year 2020-2021. Through the generous support of alumni, friends, and community members, Chowan University received more than $3.57 million from a record 1,815 donors. The goal for total gifts was $2.5 million.
"In all my years of working in university advancement, I have not had a year as surprising as this," says Andy Wilson, Vice President for Advancement. "I don't want to say my expectations were low, but they were definitely reserved as we began the year in the midst of a global pandemic. To have friends of the university show this level of support leaves me grateful and awestruck."
Among many programs and funds, several people were inspired to support the new worship center chapel. The chapel campaign was initiated in October of 2020 and will house the first dedicated worship center facility on campus. The goal for constructing the chapel is $2.5 million with over $2 million raised to date. Plans are already underway for a groundbreaking on September 9, 2021.
A number of scholarships were endowed and will assist incoming and returning students.These gifts are designated to help students with the challenges of tuition and reward them for their academic prowess. "I want to make a difference. The challenges for young people are so vast these days and we need to find solutions to our societal problems." Duke Askew of Richmond, VA commented on why he supported the university with two significant scholarship endowments in support of psychology students.
A capital project that met a timely need was the addition of the Cross of Christ Outdoor Chapel on Lake Vann. This sacred space allowed students to safely gather for worship services, as well as for personal reflection.
The pandemic brought unforeseen hardships on our students and the Agape Fund, a benevolent fund, was established to meet those unexpected crises that arise. These needs are as extensive as unforeseen medical care to challenges with gas money to get home. The pandemic has been an opportunity to live our mission and express our values in order to navigate times of uncertainty.
Although athletic competition was anything but normal, the donors to the athletic program understood the new challenges and came forward to give back in a big way. Over 700 donors gave $146,000 this year. This is one of the largest numbers of donors to support the Hawks athletic program.
To help bolster the university's profile and for people to easily give, a new program was launched that catapulted the number of returning and new donors to record levels. In its first year, the Chowan Gives – Day of Giving program was a social media campaign that grossed over $151,000 from 545 donors. During this one day, the university almost doubled the total number of donors from the previous year.
"This program was an innovative approach that enabled the university to use traditional methods of outreach and add a layer of technology for a younger audience to support the university. We received gifts from a number of very generous individuals and businesses. I am grateful for the renewed interest of those who care about Chowan." states Chowan University President, Dr. Kirk Peterson.
This coming year will build on this success to complete the needs for the new chapel, expand the endowed scholarship offerings, build upon academic needs, and engage additional support in athletic facilities. This year's success ensures Chowan University's strength for the years ahead.