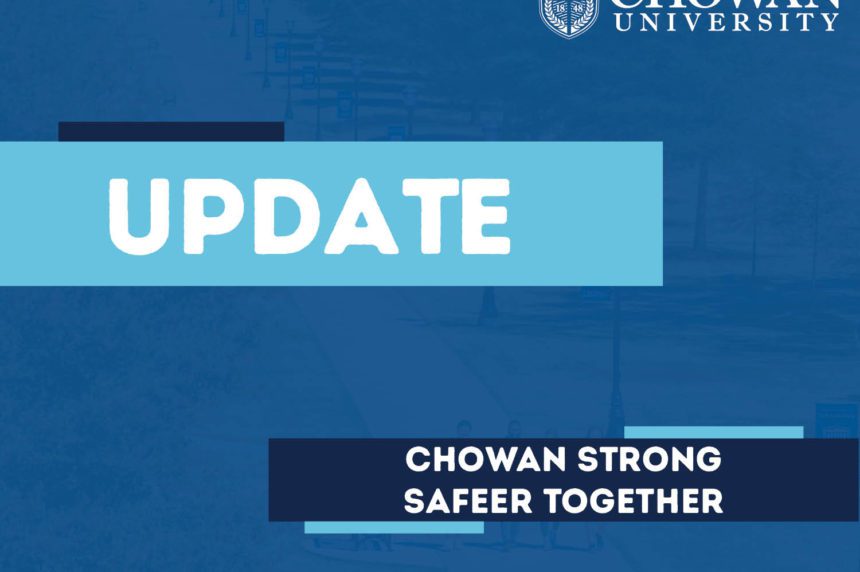 COVID19 Update XXXVII – June 3, 2021, 11:50 am
Jun 3, 2021
by Staff Reports
N.C. Gov. Roy Cooper updated his executive order relative to COVID-19 and lifted many restrictions to reflect the latest public health guidance from the NCDHHS and the Centers for Disease Control and Prevention on May 14th. As has been the case under previous executive orders, college and university presidents retain the authority to impose public health requirements on their campuses that are more restrictive than those of an executive order in light of the unique circumstances and community conditions of the campus. Accordingly, Chowan University is updating its campus community expectations as follows.
Please read this message carefully since it contains important updates as we prepare for a full return to campus for fall semester.
· Face coverings are still required on campus indoors for faculty, staff, visitors and students, who have not been vaccinated. Employees, students and guests who are vaccinated have the option to wear masks or not. This matter will be revisited with an update to campus by July 1.
· Reminder: You are not required to wear a mask if you are alone in an enclosed room, such as an office with a door, or while you are actively eating or drinking.
· Social distancing is no longer required in classrooms and other meeting areas.
· Masks are no longer required outdoors.
· Mass gathering limits are lifted but we still recommend wearing masks at crowded large indoor events and live performances.
· It is still strongly recommended that unvaccinated individuals continue to wear a face covering at all times when in the presence of others.
While the governor's latest update reflects the great strides that North Carolina has made against COVID-19, the CU community must continue to do our part to protect ourselves and others. Vaccinations are strongly encouraged and available at most pharmacies and local health departments. (More detailed information on this is forthcoming.)
Thank you for continuing to do your part to keep the Hawks community safe. The senior staff monitors what is happening in North Carolina and in our immediate area. We will make adjustments for the campus as deemed appropriate.