Ann Baird Caulkins Honored Through New 'Second Pew Scholarship'
Feb 19, 2021
by Staff Reports
The Ann Baird Caulkins Second Pew Scholarship has been established by retired Murfreesboro Baptist pastor, the Rev. Tom Caulkins to honor his wife's legacy as a faithful, selfless cornerstone of the community. This scholarship will aid deserving students pursuing a degree in areas of preparation for a career in social work, or similar fields such as counseling or behavioral studies, which align with Ann Caulkins' determination to complete her education, devotion to the Lord, and His calling for her life, and her passion for social work and mental health awareness.
The couple has been partners in love and life since June 8, 1949. Although Ann dropped out of Westhampton College, a division of the University of Richmond, to get married and support Tom while he completed a Master's of Social Work from Richmond Professional Institute, a division of William and Mary, and then a Bachelor of Divinity from Crozer Theological Seminary, she never lost her passion for learning and maintained an unquenchable desire to complete her degree while raising two daughters, Charlene and Bonnie. Nineteen years later, she graduated from the then Atlantic Christian College (now Barton College) with a BS in Sociology while being a full-time mother and pastor's wife. Although there was self-gratification in achieving her academic goals, Ann's primary fulfillment came from knowing that she could better serve her family with a completed degree. "So much of my work history I did to educate Tom and then Charlene and Bonnie," shared Ann. "It was a joy to know that my work was being beneficial to my family's education. I think education is so important. Anybody should get as much education as they can."
Tom Caulkins served as the pastor of four churches, including Murfreesboro Baptist Church from 1968-1993. In the early 1960's he served as a Chowan Trustee, and in the 1970's he taught as an adjunct professor in the Religion Department. The stories of Tom's devotion to Christ and His people can be heard throughout congregations in Northeastern North Carolina and Southeastern Virginia, including the eleven churches where he served as interim pastor. But when the Lord called Tom Caulkins to ministry, he called Ann as well. Through the years, Ann became wholly invested in serving their congregations with ceaseless, daily kindnesses.
Though Tom served God with a quiet, confident reverence, Ann appeared as a complementary foil to her husband's demeanor as an energetic, charismatic soul who exuded positivity and radiated God's goodness. Ann was present at every church service, sitting faithfully in the second pew so as not to miss a word of Tom's sermon. Charlene and Bonnie vividly recall their mother's attentiveness on Sunday mornings, her concentrated brow and affirming nods silently encouraging their pastor father. The sisters also fondly remember how her playful, assertive nature made an appearance at Sunday lunch where she would give her candid review of the morning's sermon and not hesitate to point out any stray grammatical errors. Tom shared that Ann's unwavering support from the second pew always made him preach better.
As involved as Ann was with the church and tending to the congregation, she seldom missed an event hosted by Chowan University. From academic lectures and conferences to plays and musical performances, the family calendar held them all. Ann saw Chowan as an extension of their ministry work at Murfreesboro Baptist. Many Sundays, Ann invited students who attended the morning service to the family's home for dinner. Ann was always delighted to have guests in her home.
In every aspect of her life, Ann was dedicated to living out one of her most cherished Bible verses, Ephesians 4:32, which reads, "32 Be kind and compassionate to one another, forgiving each other, just as in Christ God forgave you." Her daily mantra was especially evident in her occupation as a social worker. Ann recalls, "I always enjoyed going to work and meeting people. I worked at mental health, and I felt like I made a difference and could be a good help. So many people had such difficult problems, and I could listen and help them work through their problems. I always tried to treat everyone with kindness and include everyone."
Tom was very much aware of the influence Ann had in the community. He remembers, "When I'd go out and see people in the grocery store or on the street, any number of people would ask me, 'You're Mr. Caulkins, aren't you?' and when I'd answer yes, they would tell me how nice and kind Ann had been to them." Ann's gracious demeanor and sincere concern for others brightened everyone around her. Even if she were physically absent, Ann made sure her comforting presence was felt through handwritten notes to members of the church and community who were in the hospital, shut-in, bedridden, grieving, or simply in need of encouragement. Charlene and Bonnie fondly recall their mother writing these notes of encouragement every Sunday afternoon after waking up from her brief Sunday afternoon nap. They also remember sounds of their mother in the kitchen fixing meals and baking goodies to take to various people.
In every aspect of her life, Ann made it her mission to consistently serve her family, church, community, and her Lord and Savior, Jesus Christ. Her admirable perseverance to complete her degree in higher education for the simple desire to learn and grow is the essence Chowan hopes to capture in this new scholarship established in Ann's honor.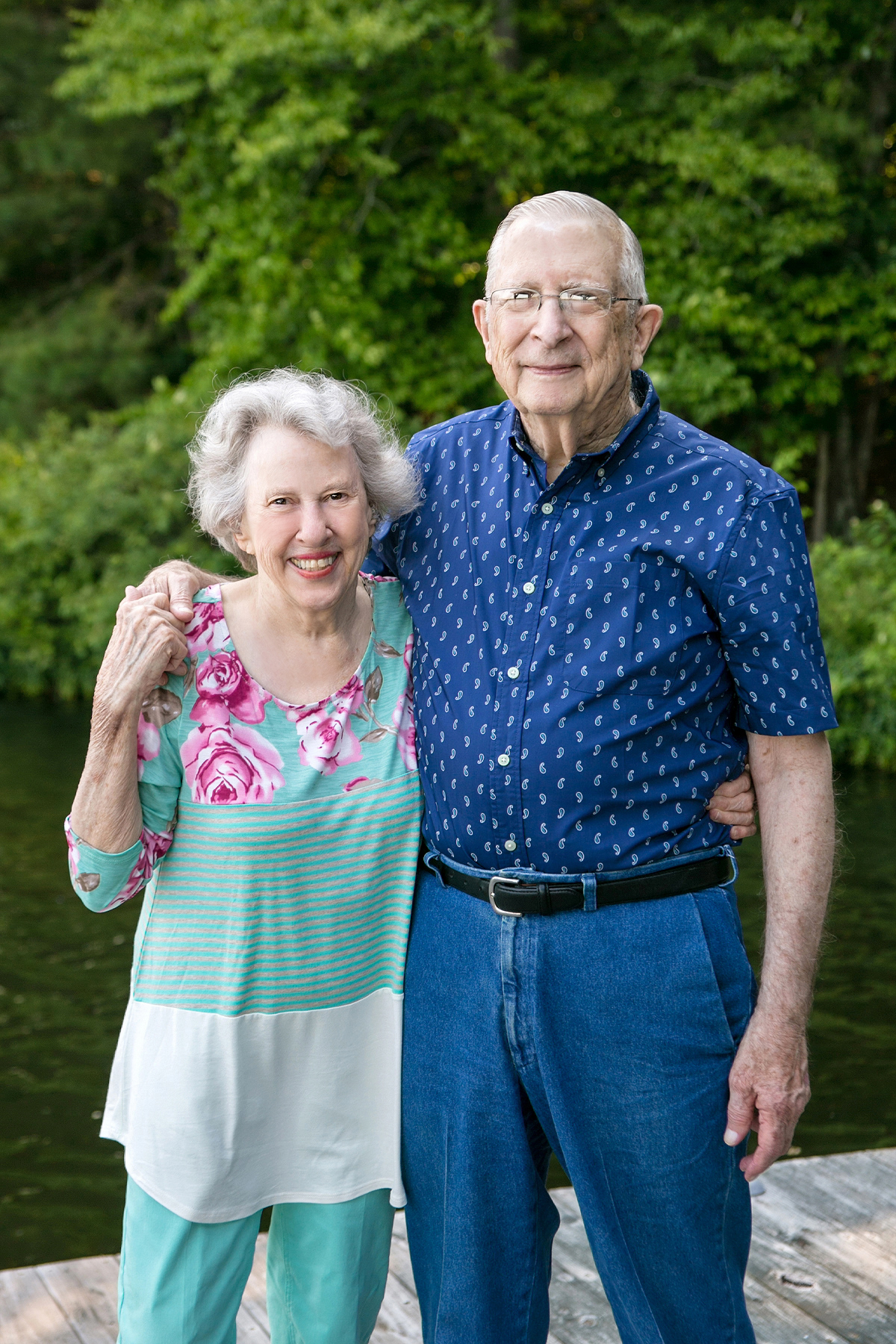 The Caulkins on their 69th Wedding Anniversary