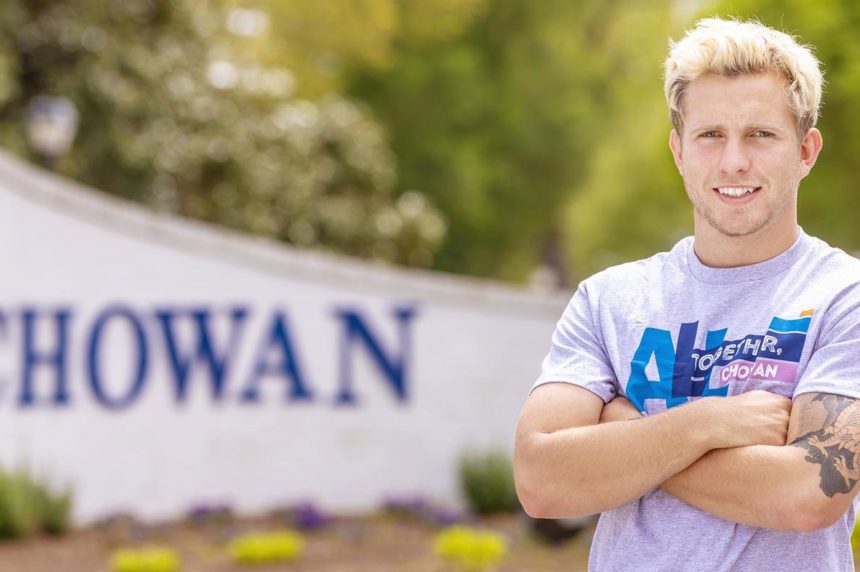 Welcome To Chowan: Wrexham's Harri Lovett is The Definition of a True Student-Athlete
Dec 19, 2022
by Staff Reports
By: Conference Carolinas
This is the continuation of a series of Body, Mind & Soul stories that highlights member student-athletes, coaches and administrators of Conference Carolinas.
WREXHAM, Wales–Now this is a dateline you never expected to see on the Conference Carolinas website.
Understandably.
Be patient and let us explain.
Welcome to Wrexham, the hit FX show (can also be streamed on Hulu) sports documentary series featuring the Welsh Association football club, Wrexham A.F.C., as told by new team owners and fellow actors Rob McElhenney and Ryan Reynolds, actually has something in common with the conference.
His name is Harri Lovett. Chowan University's dual threat as both a soccer and academic All-American, Lovett is a proud native of the blue-collar village that has become an overnight sensation in America.
"It's pretty crazy seeing my hometown and childhood team on American TV," said Lovett, the all-time assists leader in Chowan history. "It's almost surreal. I recognize places and even people from the show. The first time I watched it, I started crying. I was so rude with my teammates, telling them to keep quiet. Now, the lads are getting sick of me talking about it all the time!"
Dating back to Medieval times, Wrexham is an industrial, working-class town of 70,000 residents. Lovett was far-and-away the conference leader in assists–his 11 assists were almost twice as much as the next closest player and ranked in the top-5 nationally in the category–and he is happy to share stories about his hometown.
"Wrexham is a very historic soccer team," he says. "While I have great memories of my dad taking me to matches, most people didn't think the team was cool. My buddies and I used to root for Premier League teams like Liverpool or Manchester United."
He describes Wrexham as a place "somewhat oppressed," a former coal town now known as one of the agricultural centers in the United Kingdom. He also mentions that the village is known for a famous beer brewery (Wrexham Lager; they advertise that the beer was on the Titanic).

While Lovett, who graduated with a business degree at Chowan in three years and is focused on his Master's in Organizational Leadership, can't help but feel a part of Welcome to Wrexham as the show continues to unfold.
The series centers on Reynolds' and McElhenney's attempts to revive the third-oldest professional soccer team in the world (1864). Since taking over ownership, the Hollywood pair has infused money and energy into a Wrexham club that rose from 20th to eighth place in the National League in one year's time and then zoomed to a second place finish last season, barely missing a promotion to the English Football League Two.
Harri credits the resurgence of Wrexham not only to the tandem's financial support, but also to their true commitment to the community.
"Some of my buddies have met Ryan Reynolds," Lovett shares. "Everyone says he is so down to earth. He and Rob McElhenney very much care about the team and the town. When they're at games, they go nuts. Their intentions are very pure."
Harri said that Wrexham A.F.C. traditionally has drawn about 4,000 to 5,000 fans to its matches over the years, but the Hulu TV series and new ownership has seen the club reach sellout crowds of 10,000 on a regular basis. In fact, there are now plans to build an additional seating section due to fan demand.
But for Lovett, the newfound interest in the town's soccer team is not newfound at all. It only rekindles his childhood memories when his father (Andy) used to take him to Wrexham matches and they would live and die by every goal scored for the hometown club.

"Wrexham fans are very passionate about their team. The community is so immersed when the team is doing well. It affects the whole town. Kids are wearing Wrexham shirts and scarves. It's their life."
Harri's dad, who works in community housing to provide lodging for local homeless people, and his mother (Claire), an elected city councilwoman, own season tickets for Wrexham home matches.
Harri's younger sister, Erin (19), is pursuing a degree in sports science at John Moores University in Liverpool. She is also a talented soccer player who is a member of the Wrexham women's team, which is sponsored by Reynolds' wife, actress Blake Lively, who has renovated their clubhouse and boosted attendance to 400 to 500 fans per match.
In fact, recently, Erin was thrust into the middle of the Wrexham buzz when she was prominently featured on the women's team poster, which was retweeted by international star Reynolds to his 20.6 million followers.
Lovett's college coach Chris Whalley, who currently ranks 28th among active NCAA Division II soccer coaches in winning percentage (.631), can very much relate to Harri and his Welsh roots. After all, Whalley was born and raised in the United Kingdom himself.
"Where Harry's from is very similar to where I grew up," the coach said. "My home was a coal mining town in northern England near the steel mills of Sheffield. Like Wrexham, our economy was quite depressed. This TV program shows what sports can do to a community. It can save people's lives. It's really not that much different than Yankee fans here in the U.S.
"It's great to see soccer becoming a lot bigger here in America. Of course, Europe has had soccer for more than 150 years, so the U.S. has some catching up to do."
That Whalley and Lovett would unite some 3,600 miles away from home on a college campus nestled in Murfreesboro, North Carolina seems almost like destiny.
While he had only viewed him on online videos, Whalley trusted some of his U.K. soccer sources enough to offer Lovett a Chowan scholarship sight unseen.
"We had already had a few British lads on the team, so I thought Harri would be a good fit. We did our homework on him and I knew the club he played for in Wales."
Whalley had taken a similar route after high school himself, leaving behind his family and friends to attend diminutive Mercyhurst College outside of Pittsburgh, Pennsylvania where he helped lead his soccer team to the NCAA Final Four in 2002.
"I experienced the same journey that Harri is experiencing," Whalley said. "We both chose to go halfway across the world to play soccer and get an education. The climate, the culture, the travel. I knew exactly what Harri would be going through."
Beyond having a yearning for a life change, Lovett was rather pragmatic in his decision to venture across the pond.
"In the U.K., there is no correlation between football and academics. I wanted to keep playing soccer while getting a college degree," he said. "Attending a school on scholarship in the U.S. meant I didn't have to pay. So it was the best of both worlds."
To say that Lovett has adapted nicely to his new environs is an understatement. As Chowan Assistant Athletic Director of Athletic Communications Evann Carpenter says, "Harri is the true definition of a student-athlete."
The first Chowan athlete in any sport to be named both an athletic and academic All-America in the same season (now twice), Harri serves as a Presidential Ambassador on campus as well as a university relations intern helping oversee the school's social media channels, alumni relations and event planning. He recently finished his term as president of Alpha Chi Honor Society at Chowan, and continues to be the Student-Athlete Advisory Committee representative for soccer at the school.
Perhaps his finest moment came last May, when he received his B.S. degree in business in the aforementioned only three years of study and was one of the four commencement speakers at the graduation ceremonies. His speech encouraged fellow grads to consider experiences outside of their comfort zone.
Coach Whalley and Harri's family conspired to surprise him for his graduation. Harri was invited over to Whalley's home in Carrollton, Virginia, where he was asked to dig a trench in the coach's yard. Little did he know that his father and sister had traveled from Wales to attend his graduation. His mother had just been elected to her city council post, so she had to stay home and watch the graduation streamed online.
"This was two days before graduation," said Harri. "I spent four hours digging the trench. I was filthy. Coach asked me to take his dog for a walk afterwards. I walked around the corner on the block where he lived in the neighborhood, and here comes my dad and sister walking towards me. I was shocked!"
Whalley and Lovett have forged a very unique coach-player relationship over the past several years, something that has benefitted both greatly.
"I think we're really like-minded," said the coach. "Harri's a very mature kid. He's the team captain and a really good conduit for the team. I've been told by people that it's not a good idea to have a relationship with one of your players. I disagree. We're not dealing with professionals, we're dealing with young athletes. We need to have relationships in order to get more out of them.
"We're very collaborative. I think I'm a good role model for him. I know what it takes to make it in this country. Often I'll just invite Harri into my office for a cup of tea and have a chat. I want to know what's going on with the team and Harri can provide that."
Clearly, the friendship has served Harri well.
"He's established himself as one of the best to ever play at Chowan," Whalley says with obvious pride. "When he's through, he'll be a Hall of Famer."
The coach also says he's not surprised that Lovett is so proficient in doling out assists as his trademark play.
"It's just synonymous with his personality. He does so much on campus to help people. He's extremely well-liked, a good teammate and great leader."
In fact, he is such a great leader, Whalley predicts Harri will be a successful future coach if he chooses that career path.
"He'll most definitely be a good coach. He's got such a great personality. He's a hard worker. And he's just great with people."
So, while Lovett's playing career is winding down, he admits he once dreamt about suiting up in a Wrexham Red Dragon soccer kit and competing for the hometown team.
"Of course, I thought about it. Absolutely. It's every kid's childhood dream. But with this new investment, Wrexham is now suiting up better players. I'm just not good enough. In fact, I'd be upset if they signed me and would be very pessimistic about their future."
Which is something they will never say about Harri Lovett's future as a coach or businessman. For this exceptional student-athlete has found gold with seemingly everything he's touched.
Bob Rose is a longtime sports public relations executive who has worked for the San Francisco Giants, Oakland Athletics, the NFL Cardinals, Cal, Stanford and other organizations. Bob works with Assistant Commissioner for External Relations Brian Hand and the entire Conference Carolinas office to help tell the stories of the tremendous student-athletes, coaches and administrators in Conference Carolinas.