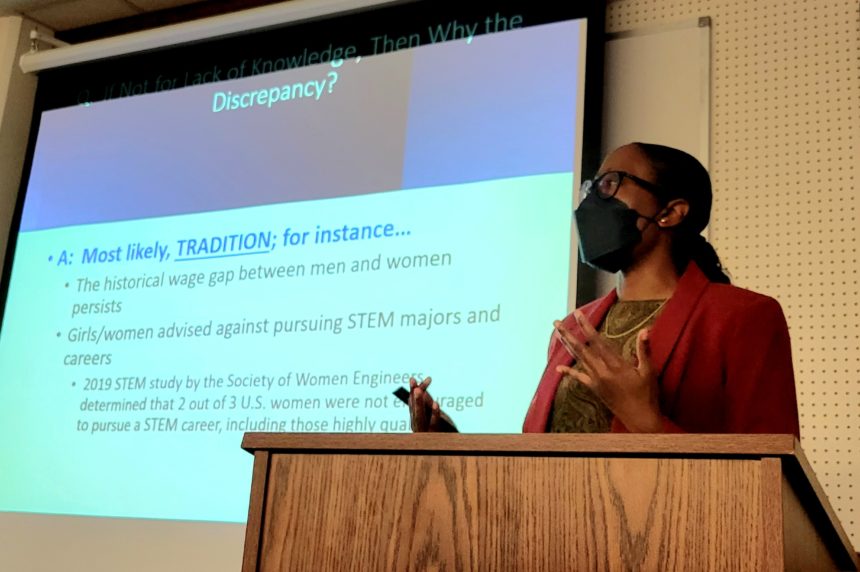 Whitaker Library Hosts Reception for 'When the Computer Wore a Skirt: NASA's Human Computers' Exhibit
Nov 9, 2022
by Lou Ann Gilliam
On Tuesday, October 25, Chowan University's Whitaker Library hosted a closing reception for the Hampton History Museum's exhibit, "When the Computer Wore a Skirt: NASA's Human Computers." The exhibit features Dorothy Vaughn, Katherine Johnson, and Mary Jackson, whose groundbreaking work was recognized in the book and film "Hidden Figures."
As a part of the closing reception, Bertie County native and Assistant Professor of Biology, Dr. Lia Walker gave a brief lecture on "Women in STEM." Walker holds a Ph.D. from East Carolina in Interdisciplinary Biological Science with a concentration in biomedical sciences.
Walker skillfully made a case for breaking the patterns that historically fail to encourage more women to pursue STEM (science, technology, engineering, and mathematics) majors and careers and exclude the women who do from being widely recognized for their talents and valuable contributions. She highlighted several women in her remarks including NASA mathematician Katherine Johnson, whose "orbital and trajectory mechanics computations contributed to the first and several other successful space flights." She also noted the DNA debate within the scientific community regarding the likelihood that Dr. Rosalind Franklin did not fully receive credit for her integral contributions to the discovery of DNA's structure. "Contrarily, her male scientist counterparts, Doctors James Watson, Francis Crick, and Maurice Wilkins, were awarded the Nobel Prize for describing DNA's notorious double-helix structure, evident largely due to Dr. Franklin's famous Photo 51 X-ray image."
In her own work, Walker seeks to continue "carrying the torch in STEM spaces" for women. She concluded her remarks with a personal quote, "Always embrace the fullness of your potential in whatever your interests may be and in whichever field you choose to pursue. There are no limits except the ones you place on yourself."
Continuing the celebration for the exhibit closing, the library hosted a scavenger hunt and movie viewing of "Hidden Figures." Thank you, Chowan Whitaker Library and Dr. Walker for highlighting the contributions women have made and continue making in STEM fields.
For more information on the Chowan Whitaker Library, you may contact, University Librarian Georgia Williams at willig@chowan.edu.