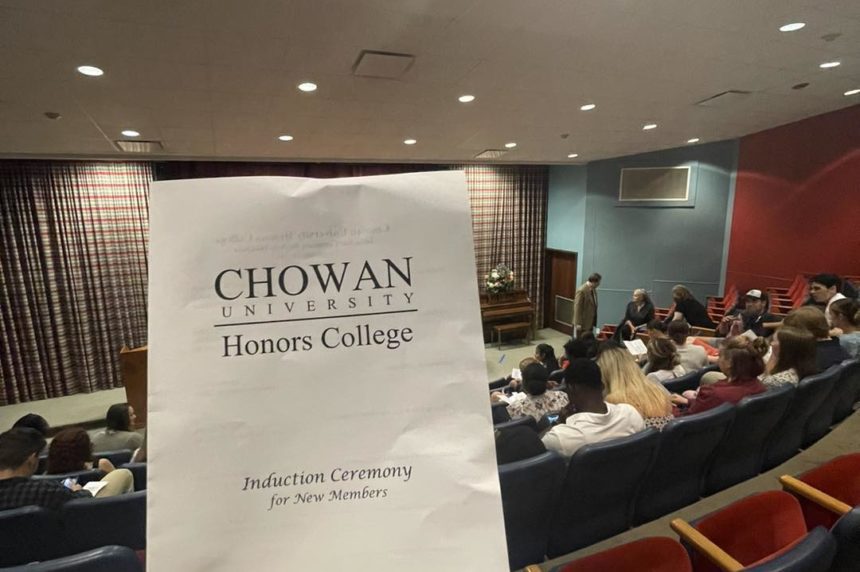 2022 Honors College Induction
Sep 23, 2022
by Harri Lovett
On the 22nd of September, Chowan University inducted fifty-one students into the Honors College at a ceremony conducted in Vaughan Auditorium. Dr. Whitaker and Prof. Patsy Taylor were guest speakers, while Myesha Faison and Rebekah Lucas spoke on behalf of the Honors College Student Association.
The Honors College is a curriculum designed for talented and extremely motivated students who want to gain the most from their university experience. Participants are given the opportunity to grow on many levels-academically, culturally, and socially. Honors courses are specially designed to develop students' writing and discussion skills and their ability to think critically beyond the norm. Honors students will also have the opportunity to attend cultural events, take field trips, and build social responsibility through community service. The college is designed to foster abilities in the student that can be used throughout their academic and professional careers.
Dr. Whitaker, Director of Chowan University's Honors College, referenced the important role the Honors College plays within the campus community. Outlining how the program benefits students academically, socially, and culturally. The Chair of the Mathematics department also explained how students would participate in service events, thoughtful debates, and internships.
Patsy Taylor, Associate Professor of Marketing, delivered a speech titled "Who Are You When No One is Watching?". The powerful presentation broke down the importance of ethics, social responsibility, and surrounding yourself with people who challenge you and have a desire to succeed, which represents a core competency of Chowan University's Honors College.
Service Projects Chair Myesha Faison and Academic Programs Chair Rebekah Lucas represented the Honors College Student Association Officers. The pair offered their congratulations to those being inducted before highlighting how their experiences in the Honors College have enhanced their writing, discussion, and critical thinking skills. The Honors College Student Association was accompanied by Provost Moore in the presentation of pins and certificates to the students being inducted, which was followed by Rebekah Lucas leading the Honors College pledge.
The names of those inducted at the 2022 Honors College Ceremony are:
Trevon Abraham, Clayton, NC
Zyanna Amaker, Jersey City, NJ
Desire' Anderson, Gates, NC
Karla Artolozaga, Indian Trail, NC
Daylan Askew, Ahoskie, NC
Desiree Askew, Ahoskie, NC
Nia Baskin, Alexandria, VA
Cameron Berry, Dumfries, VA
Caryn Bowe, Suffolk, VA
Connor Bryant, Cary, NC
Jade Burnette, Mebane, NC
Elena Butcher, Fareham, NC
Grace Crawford, Severn, MD
Sebastine Daniel, Chesapeake, VA
Skyler Davies, Wilmington, NC
Maria Estinvil, Quebec, Canada
J'Vin Farmer, Raleigh, NC
Gizelle Garcia, Jacksonville, NC
Jayce Graves, Greenacres, FL
Morgan Grosse, Venice, FL
Landon Heller, Youngsville, NC
Kyra Helton, Elon, NC
Ashley Hunter, Smithfield, NC
Fabrizio Infante Collantes, Valencia, Venezula
Trevor Jeffries, Lanexa, VA
Emalee Jones, Jackson, NC
Marie Kaissieh, Beit Jala, Palestine
Oliver Kemp, Hull, England
Jeffrey Lankford, Mechanicsville, VA
Amber Mann, Wanchese, NC
Jamie Moore, Sheffield, England
Lillie Nelson, Mechanicsville, MD
Tessalyn Nicholson, Whiteville, NC
Daniel Paciullo, Greenville, NC
Arriel Quant, Freeport, Bahamas
Nicholas Reiss, Wake Forest, NC
Sophia Roane, Corapeake, NC
Sydney Roberts, Greensboro, NC
Gracie Ross, Graham, NC
Rayn Ross, Graham, NC
Avery Salerno, Winston Salem, NC
Jourdan Smith, Bowie, MD
Rocco Smith, Stuart, FL
Rachel Stetson, Winter Garden, FL
Abigail Sutton, Cranberry Township, PA
Grayson Thorne, Wilson, NC
Morgan Tucker, Okeechobee, FL
Kora Turner, Myakka City, FL
Grace Walker, Spring Hill ,TN
Ronaldo Williams, Kingston, Jamacia
John Yancey, Garner, NC
Chowan University would like to congratulate the inducted members on their continued commitment to academic excellence.