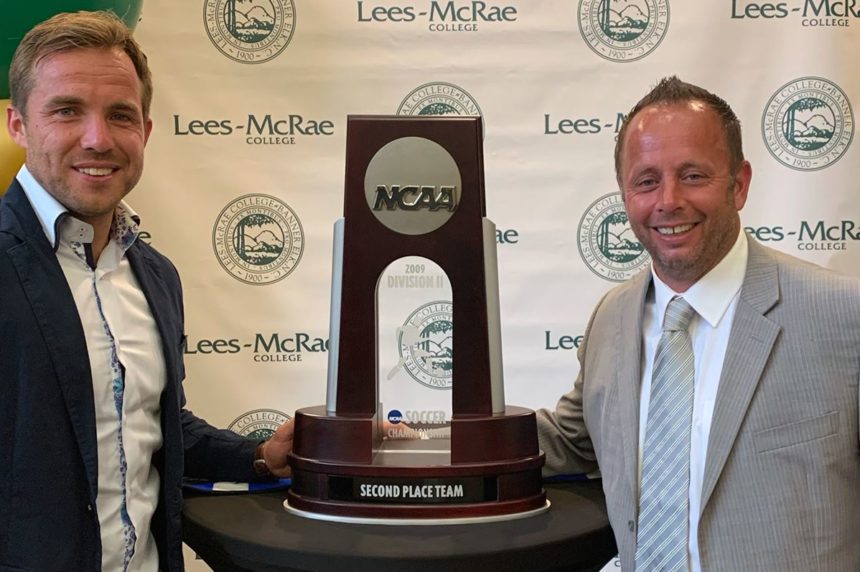 Chowan Men's Soccer Coaches Inducted Into Lees-McRae Hall Of Fame
May 26, 2022
by Staff Reports
MURFREESBORO, N.C. – In late April, the Chowan Men's Soccer coaching staff of Chris Whalley and Luke Staats were inducted into the Fred I. Dickerson Athletic Hall of Fame at Lees-McRae.
"First, I want to thank Lees-McRae and the Athletic Administration/Alumni Office for this honor," stated Coach Whalley. "I am immensely proud of the players and staff involved in the 2009 team to be inducted into the Hall of Fame."
Chris Whalley, current head coach of the Hawks, spent five years at the helm of the Lees-McRae Men's Soccer staff, guiding the Bobcats to a 72-22-11 overall record. During the 2007 season, Whalley navigated the Bobcats to a 21-2-1 overall record on their way to the Conference Carolinas Regular Season and Tournament Championship. LMC advanced to the NCAA Division II Sweet 16 and Elite 8 and was named Conference Carolinas and NSCAA (now USCA, United Soccer Coaches Association) Coach of the Year honors.
"Lees-McRae College and Banner Elk will always be a special place to me. I spent seven years of my life there and to go back with my young family to achieve this award is something I will never forget. I was married in Banner Elk to my lovely wife, Alexis, and made lifelong friends in the mountains."
Whalley is most notably known with the Bobcats for the run during the 2009 season, as Lees-McRae would climb atop the national rankings and suffer a 1-0 loss in the NCAA National Championship game.
"We had a special group of people who collectively worked extremely hard for the fairytale season, which ultimately ended in a national championship loss."
During his tenure, Whalley and the Bobcats appeared in the NCAA Tournament three times (2007-09), three Conference Carolinas Regular Season Championships, two Conference Carolinas Tournament Championships, 14 All-Americans and 32 All-Region players.
"Finally I do want to mention all the players who played for me, coaches who worked with me and people who helped build the program during my five years as a head coach at Lees-McRae. For the players from 2005 and onwards, the booster club and bobcat supporters who helped produce the foundation for what became one of the finest Division II soccer programs in the nation, thank you so much it would not have been possible without you."
Associate Head Coach, Luke Staats was a four-year member of the program under Coach Whalley at Lees-McRae. During his playing career, Staats helped lead the team to three Conference Carolinas Regular Season and Tournament titles, four straight NCAA Appearances, two trips to the NCAA Division II Sweet 16, and a National Championship Finalist appearance. His efforts named him Conference Carolinas All-Conference three times, an All-Region selection, and an All-American.
See the original article here.