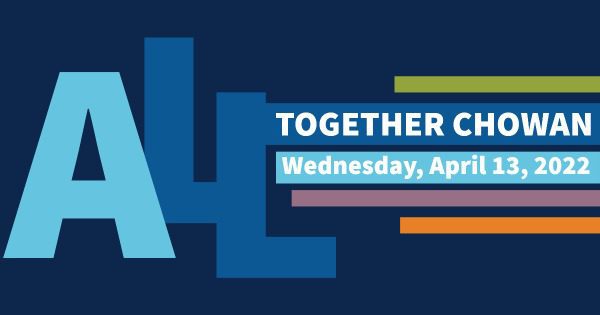 Giving Day Challenges Announced
Mar 21, 2022
by Staff Reports
On Giving Day, April 13th, it's not just how much you give, it's how far your gift will go!
Match or challenge incentives give donors the opportunity to match or "unlock" extra funds for their designated gift. We are pleased to have inspiring challenges this year that will increase the value and importance of gifts significantly.
We're trying to raise more than $240,000 in just 24 hours, and our challenge funds will be a huge help. Every donor will play a part!
Once at least donations reach $125,00 on Giving Day, Chowan will receive an additional $100,000 toward Chowan University's Scholarship Endowment, made possible thanks to the generosity of the children of the late Jim Johnson and dubbed The Johnson Family Scholarship Challenge. 
A 1:1 match for donations up to $250 between the hours of 8 am and 2 pm will be matched by Charles Pond in memory of Juanita Pond and her parents, John and Emma Kelley. This is dollar for dollar match helps the cause that means the most to you. 
Thanks to the generosity of Dr. Brenda Tinkham and Jayne Wolfskill, gifts in support of Teacher Education, will be matched dollar for dollar up to $12,000.
Mick and Carol Outten challenge friends and alumni to support the Chowan Fund. Your gift to the Chowan Fund helps in multiple areas of campus. The Outten family will support the Chowan Fund with $10,000 once 50 people donate to the Chowan Fund.
Dr. Kirk and Rachel Peterson are challenging others to support the Agape Fund. The Agape Fund exists to provide compassionate assistance to students, faculty and staff. Through the generous donations of parents, alumni and friends, our students in crisis can receive financial support for one-time needs.
When 100 new donors make a gift during the Chowan Gives day, Bucky and Jan Glover will provide $25,000 for the New Chapel Worship Center.
Additional challenges are:
The Athletic Challenge Board – CU Athletic teams compete for bonus funds through the number of gifts.
Nick Khoury and Shanice Lawton Young Alumni Challenge – As officers of the Alumni Council and young alumni, they are challenging 100 young alumni to make gifts to unlock their $500 donation.
Adult Degree Completion Program Challenge – Dr. Pam Woodard, a graduate of Chowan's Adult Degree Completion Program, challenges other graduates of ADCP to award current students with a $1,000 scholarship.
Dr. Maurice Fluitt, President of the Alumni Council, has two fun challenges — the 7:00 to 8:00 a.m. Morning Rush Hour and It's a Chick-Fil-A kind of lunch today from 12 to 1:00 p.m. Donors during these hours may win digital gift cards!
Hippy 70s Challenge – Barry Bradberry, class of 1973, is encouraging 70s alumni to make a gift to open his $1,000 donation (25 donations are needed).
The Watermelon Festival Scholarship Challenge – Lynette Bunch is challenging alumni and friends to support the Watermelon Festival Scholarship.  She will give $50 for every donor to the scholarship.
Ace Hardware of Murfreesboro will give each faculty and staff member a can of Bertie County Chocolate Covered Peanuts if 66 Fac/Staff give on the day of giving!
For more information about Chowan's Day of Giving, and to register to be a champion, or view the challenges online, visit givingday.chowan.edu or contact advancement@chowan.edu.