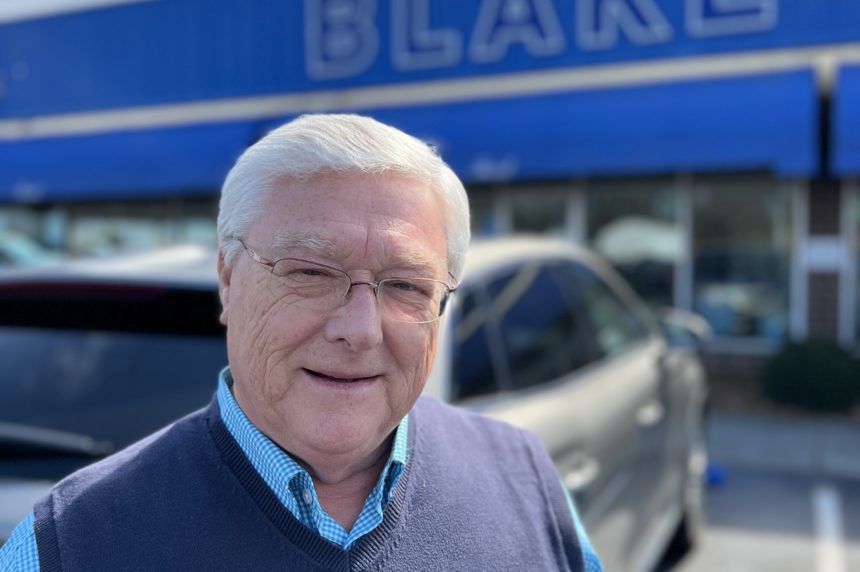 Blake Blythe Joins Chowan University Board of Trustees
Mar 17, 2022
by Kim Sherman Bailey
Chowan University is pleased to announce that Joseph "Blake" Blythe joined the Board of Trustees in 2022. Trustees serve overlapping terms of four years and work as a policy-making body for the University. Blake will attend his first meeting at the spring meeting of the board on April 21, 2022.
Blake grew up working for his parents, who had established Blythe Ford, Inc in Franklin, Virginia. At the age of nineteen, he purchased the Cobb Ford Dealership in Courtland, Virginia which also sold Ford tractors. In his years of business, Blake did everything from deliveries, to washing and selling cars. After a brief retirement in 2000, he purchased the dealership that his father established and later sold to the Sadler family, now named Blake Ford in Franklin and currently serves as the co-owner.
In addition to serving on the Chowan University Board of Trustees, Blake's board memberships include service for Sona Bank, Ford Motor Company Advertising Board, and the Virginia Auto Dealers Association. Mr. Blythe is serving his 5th term as a member of the Winton Town Council.
A member of Winton Baptist Church, Blake serves as the Chairman of the Deacons. He and his wife, Diane reside in Winton, North Carolina. Blake has four children, Courtney Jackson, Kirstin Riddle, Chelsea Garner, and Wood Downs.
Blake is no stranger to Chowan; his mother Peggy received her Certificate in Business from then Chowan College in 1952, and his daughter Chelsea graduated in 2013 and is a successful educator.
"I am delighted to have Blake, a respected business and civic leader, who is passionate about join the Chowan University Board of Trustees," shared President Kirk E. Peterson. "He joins our dedicated board who bring diverse perspectives and a wealth of individual and collective knowledge to help elevate the university."
We congratulate Blake on being named the newest member of the Board of Trustees!