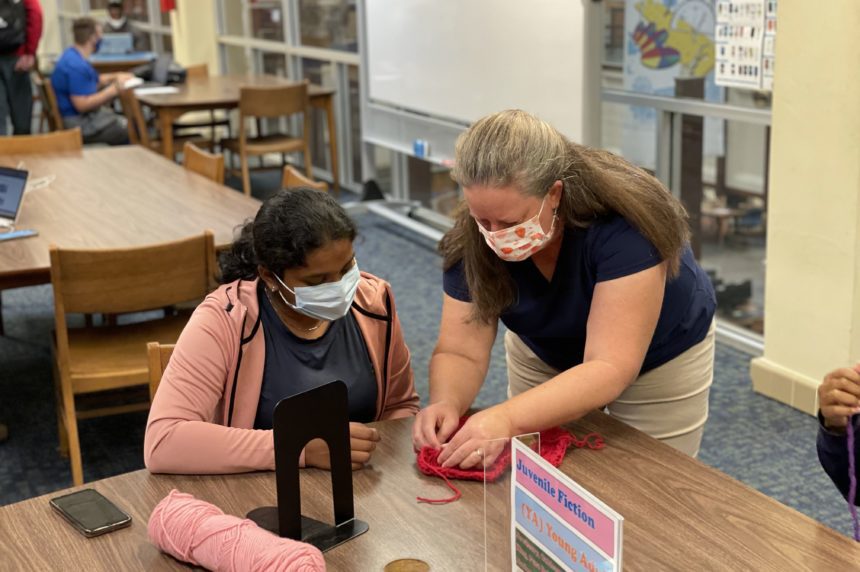 Whitaker Library provides activities like the Crochet and Knitting Club as well as Game Night to help students make connections and reduce stress. University Librarian Georgia Williams demonstrates crochet techniques to student Sreshta Puducheri'25.
More than Books: Whitaker Library offers Activities to Promote Student Wellness
Mar 16, 2022
by Lou Ann Gilliam
Freshman Sreshta Puducheri proudly holds up her first project to University Librarian, Georgia Williams. Williams then shows Sresta how to stitch the winding crocheted creation into a larger piece. Sresta along with other students participate in the CU Crochet and Knitting Group that meets weekly on the top floor of Whitaker Library. This activity is one of the many offerings Whitaker Library provides to promote student wellness and mental health. 
Williams shares, "even before the pandemic began, there were articles and conversations among librarians at the national and international level about ways the academic library contributes to overall student wellness." Enlightened with this information and a desire to help students, the library staff and the Chowan Cares Team met to discover ways that the library may assist in reducing students' stress levels.
Minister to the University, Rev. Mari Wiles suggested to the library staff that "creating activities" would be a good outlet for students to connect and reduce stress. With that advice, Williams, who knits and crochets, gathered other staff members from campus who also enjoy the craft to begin the weekly class for students. Assistant Athletic Director of Sports Medicine, Lisa Bland has been a regular in teaching the class. For an anytime activity the library produced a huge black and white campus map that students enjoyed coloring together. A jigsaw puzzle table also became available for students in need of a study break.
Another opportunity added to reduce stress and promote community was the addition of Library Game Night. The librarians recruited faculty and staff to facilitate these events. Biology professor, Dr. Torrence Gill, and Internal Operations for Athletics Scott Parker introduced students to the board game Catan. On another evening, a group enjoyed playing Sequence while an adjacent table played the classic card game, Uno.
"Your choice of major doesn't matter in board games. You find ways to socialize with others, even if it is with a little friendly competition. In a time when meeting others can be challenging, board games facilitated making connections." shared Associate Professor in Accounting, Shannon Williams. The positive effect of "game night" created a spin-off for faculty and staff with a couple of late afternoon board game opportunities.
Along with providing group activities, the library staff often reminds the Chowan Community of The Farris Prayer Room. Here visitors can use this space for reflection, prayer, and meditation.
As well as offering space for reflection, Whitaker Library is still a great study spot. Thanks to gifts given by The Friends of Whitaker Library, two new large moveable whiteboards have been added to the top floor of the library, which has proven to be an asset for those studying formulas for math and chemistry tests. Another purchase that students have enjoyed and moved all over the library are the active sitting stools. Reference Librarian and Instruction Coordinator, Sarah Bonner shares the value of these stools, "Active sitting, also known as dynamic sitting helps students by improving posture and core strength and decreasing body tension. The stools also improve circulation and concentration."
The intentional efforts of the Whitaker Library staff have been valued by the campus community. University Counselor and Chowan Cares Member, Yolanda Majette noted, "when students participate in positive activities it can be a great coping strategy to deal with negative, uncomfortable feelings." Creating positive activities in a welcoming and non-judgmental space is exactly what the Whitaker Library staff has done."
Thank you Whitaker Library Staff and Chowan Cares Team for being proactive about student wellness.