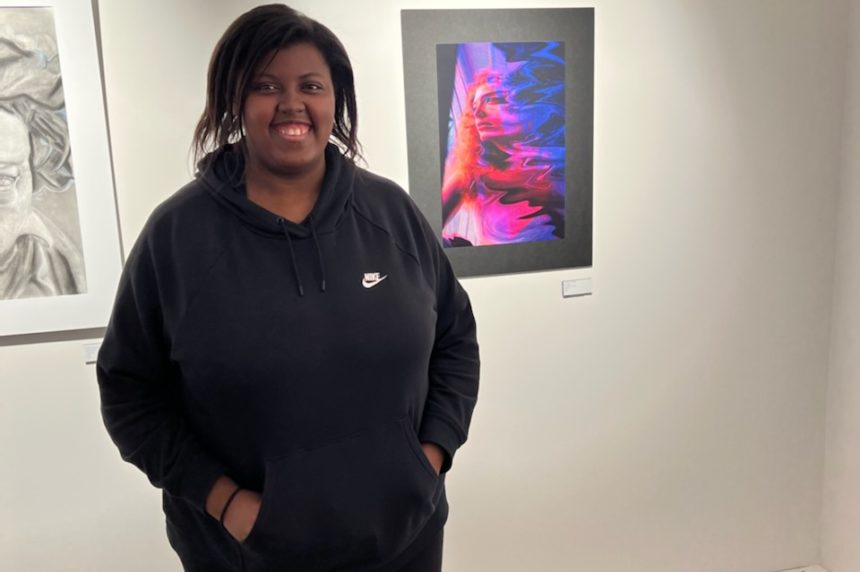 First place winner Destiny Vaughan' 23, with her work "Enigma."
Chowan University Recognizes Winners of the 52nd Annual Student Art and Design Exhibition
Feb 18, 2022
by Kim Sherman Bailey
On February 10, 2022 Chowan University's Department of Communication Arts announced the award winners for the 52nd Annual Student Art and Design Exhibition during the opening reception.
Destiny Vaughan won First Prize of $150.00 for her work, "Enigma" which is digital art based on a poem she wrote in her Creative Writing class. Ulyses Ortega-Espino, was awarded Second Prize and $75.00 for his work, "Feelings," and Ishcah Browne secured Third Prize and $50.00 for "Smiling Cheetah." Sreshta Puducheri won the Provost Award and $100.00 for her piece, "ISKCON."
The following Honorable Mentions were recognized and awarded with $25.00 each for their notable submissions: Jackson Down's "Grey Clips," Sreshta Puducheri's "Silence Speaks," and Mitch Bess' "Seed Pod."
"I was very proud of all of the students that entered their work into the show," shared Jason Fowler, Assistant Professor of Graphic Design. "The pieces that came in from our campus community were impressive in both quality and diversity of idea. I love to see so many different styles and ideas gathered into one show. It is inspiring to see so much beauty and creativity coming from our students here at Chowan."
The annual art exhibition features all original artwork of Chowan University students. Typically, 30-50 students participate in the event, showcasing the work of students representing all academic years. Types of artwork and projects included in the exhibition feature graphic design, painting, printmaking, sculpture, pottery, drawing, and digital media. With such a large variety, there is surely something to appeal to everyone's eye.
"Each year our students continue to present high-quality work, and this exhibit is no exception," shared Rob Buller, Associate Professor of Art. "It is also a joy to see our students' artwork in our newly remodeled galleries, making this year's exhibition one of the strongest in CU history." The exhibit is free and open to the public through March 3, from 9:00 to 5:00 pm, Monday through Friday in Green Hall in the newly remodeled Juanita Kelly Pond and Charles & Frances Hinnant Galleries.
Please join Chowan University in congratulating the winners of the 52nd Annual Student Art and Design Exhibition.