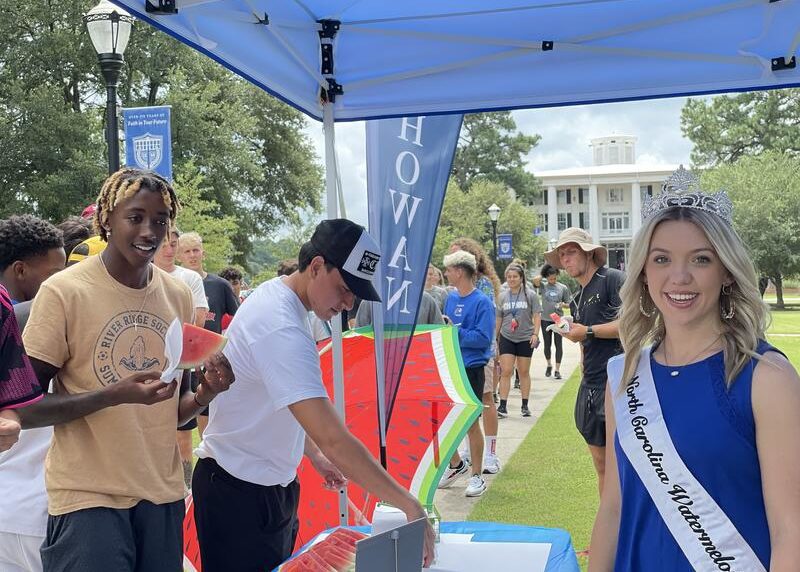 NC Watermelon Queen hosts Watermelon Party for Students
Aug 20, 2021
by Staff Reports
The Chowan University community was honored to have Miss Anna Young, 2021 North Carolina Watermelon Queen, on campus Friday, August 20. Miss Young enjoyed meeting CU students and offering them a delicious slice of melon. The event was sponsored by the North Carolina Watermelon Association and Murfreesboro Farms, Inc.
Miss Young is the 20-year-old daughter of David and Angela Young of Alexander, NC. She is currently a student at North Carolina State University majoring in Agricultural Science with an Agri-Business Concentration. Her future plan is to obtain a career working in marketing or global outreach for an agricultural company.
Miss Young has served as the North Carolina State FFA Vice President and was selected the FFA State Champion in Parliamentary Procedure. She is also an accredited Parliamentarian. Anna is active in her community serving as a Buncombe County Farm Bureau Women's Committee Board Member and a Madison County Chamber of Commerce Youth Outreach Representative. She enjoys photography, dancing, music and her Bible studies.
As North Carolina Watermelon Queen, she hopes to share her love of watermelon while serving as the spokesperson for the North Carolina watermelon industry all across the state. Anna will hold the state title for one year and represent the NCWA at the 2022 NWA Convention.