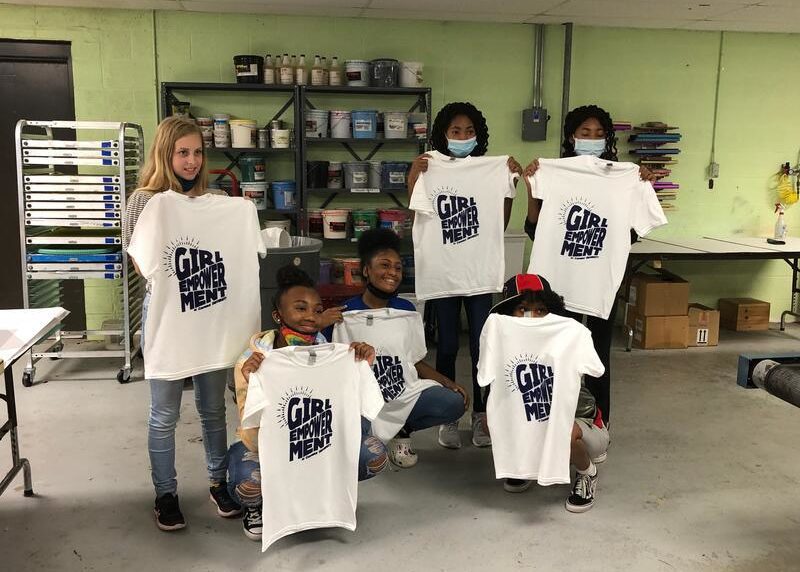 Academic Outreach Hosts Girl Empowerment Day
Jul 15, 2021
by Staff Reports
On May 25, 2021, the Chowan University Academic Outreach was revived after being discontinued due to the COVID-19 pandemic. A group of eager students from Gates County Schools was hosted by Anna Eure, Chowan's Admissions Counselor & Campus Visit Coordinator. The guests were treated to the University grand tour where they visited residence halls and classrooms as well as enjoyed a special lunch in Thomas Dining Hall. Being able to hear about a student's typical day at Chowan, receive a comprehensive overview of the University's academic programs and ask questions about college admissions proves to be an invaluable experience that the Academic Outreach strives to capitalize on during this event.
The Horner Graphics Center stood out as the highlight of the day with activities led by Jennifer- Groves Newton, Assistant Professor of Graphic Communications, Michelle Surerus, Professor of Graphic Communications, and Mitch Henke, Professor of Graphic Communications. Students were given a crash course in graphic communication and learned about the ever expanding possibilities for schooling and future employment in the field. The visitors got to witness several instructive demonstrations including digital and offset printing. The learning transitioned to a kinesthetic experience where students utilized the screen- printing process to create their own T-shirts.
Hands-on learning continued as students were introduced to the basic concepts of structural design through friendly competition. The participants challenged each other to convert a 2-D piece of corrugated stock into a 3-D box as quickly as possible. As the day came to a close, it was clear that the program once again managed to marry the task of learning with laughter and fun. After dormancy from COVID-19 looked to silence the impact and outreach of this valued program, the Chowan University Academic Outreach shined brightly in the lives of Gates County Students.