Theatre@Chowan Presents "Ohio State Murders"
Mar 27, 2015
by Staff Reports
Theatre @ Chowan will present three free performances of Adrienne Kennedy's play Ohio State Murders on April 17th, 18th, and 19th.
From Adrienne Kennedy, a celebrated author and Obie award-winning playwright, comes a semi-autobiographical play about her time at Ohio State University and an unsettling look at racism in the United States.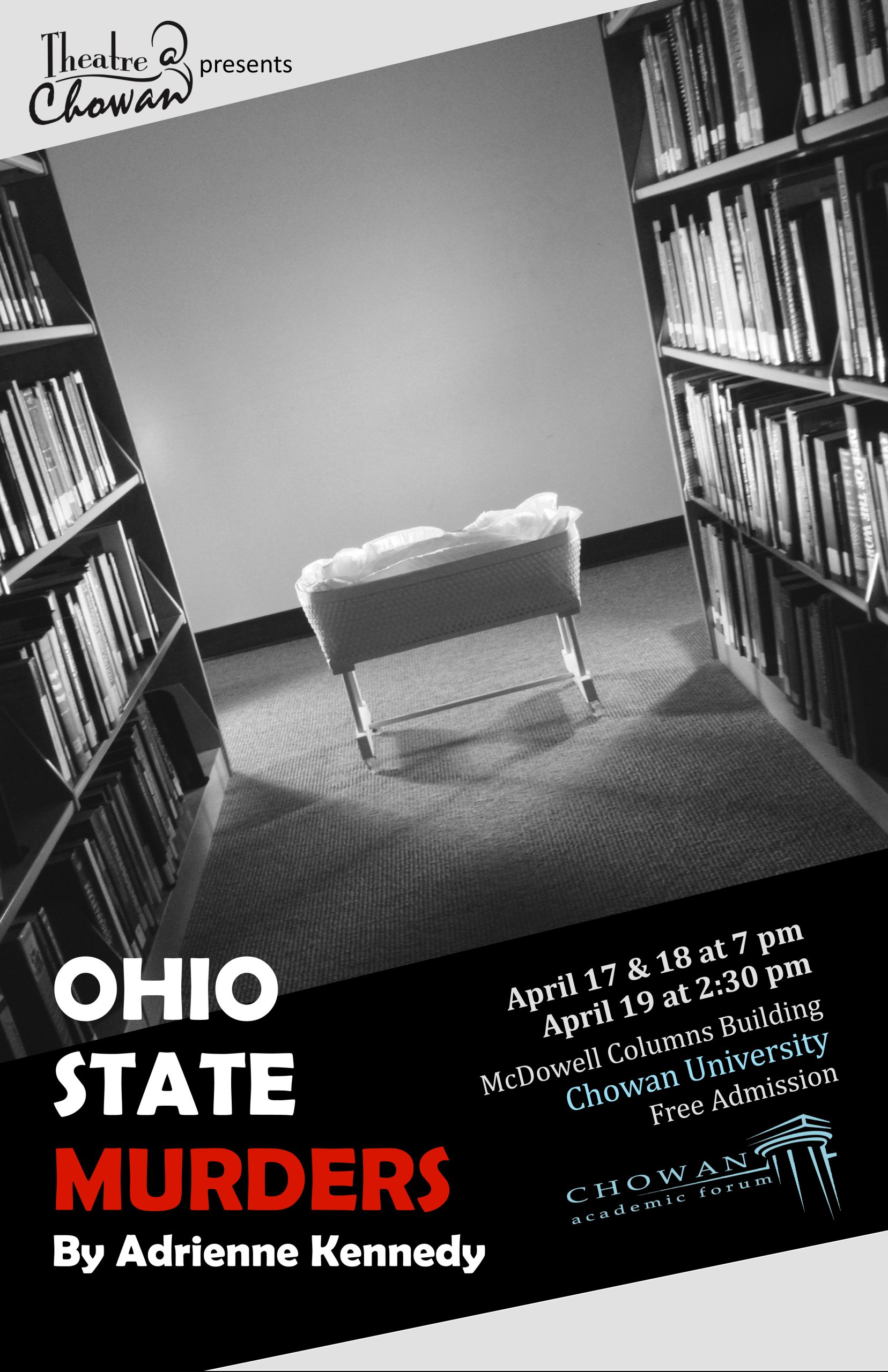 When young Suzanne Alexander, an African American female, enters Ohio State University in the fall of 1949, she finds herself drawn to the language, literature, and landscapes that academia has to offer. Little did she know, she would travel a series of paths that would change her life — forever.
Forty years later, now a successful and noted author, Suzanne is invited back to the University to explain the dark imagery in her writing. As she does, Suzanne takes us down the dark corridors, the hidden passages, and the frightening landscapes of her past. The dark mystery of her time at the University is brought to life as the shocking and chilling truth is finally brought to light.
The 12 member cast is comprised of Chowan University students and one local community member. The cast includes Austin Munden (Sophomore; Gates, NC), Alexius Brandveen (Junior; Williamsburg, VA), Rodney Countryman (Junior; Henderson, NC), Joshua Toliver (Senior; Chesapeake, VA), Jasmine Snead (Junior; Suffolk, VA), Chelsea Murphy (Freshman; Connelly Springs, NC), Angelique Jackson (Sophomore; Newport News, VA), Carolyn Goodman (Sophomore; Gatesville, NC), Suraya Chase (Junior; Arouca, Trinidad), Devon Baker (Junior, Bowie, MD), Peter Shumaker (Senior; Haymarket, VA), and Trudy Gibson (Retired CU staffer; Murfreesboro, NC)
The production is directed by Steven Harders, Associate Professor of Speech & Drama at Chowan.
This production is intended for adult audiences.
Performances are Friday, April 17th and Saturday, April 18th at 7:00 pm, and Sunday, April 19th at 2:30 pm. Performances take place in Turner Auditorium in the McDowell Columns Building on the Chowan University campus. Admission is free and patrons are encouraged to arrive early.
This production is part of the Chowan Academic Forum, a celebration of the Intellectual and Artistic Life of Chowan University.