Theatre@Chowan Presents Hamlet II
Oct 30, 2014
by Staff Reports
Theatre @ Chowan will present three performances of Sam Bobrick's comedy Hamlet II (Better than the Original) on November 21st, 22nd, and 23rd in Turner Auditorium at Chowan University.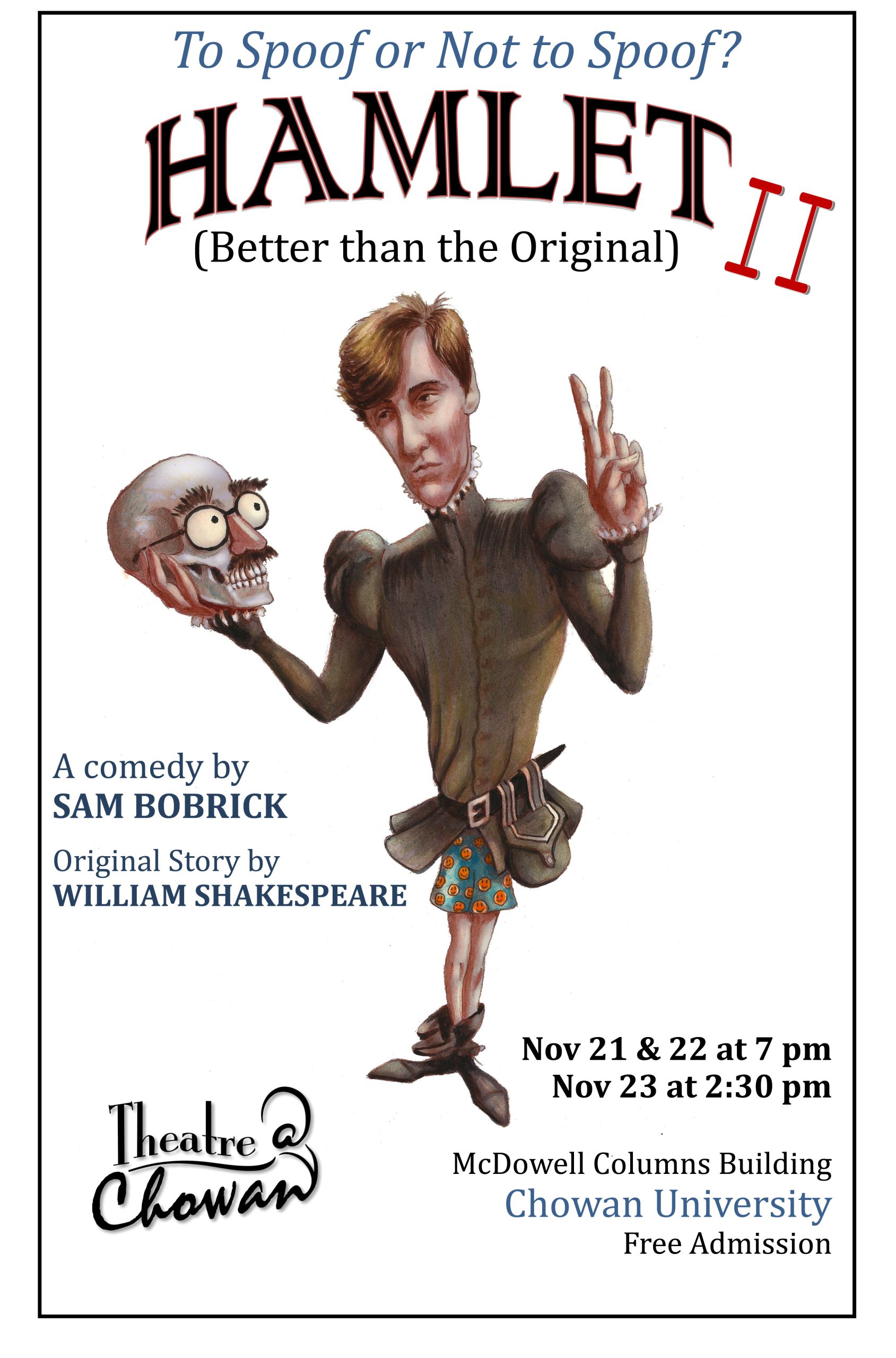 If you took a heaping of Shakespeare's Hamlet, mixed in Mel Brooks, the Marx Brothers, Monty Python, and a dash of George Burns, you'd serve up something that resembles Sam Bobrick's slapstick comedy, Hamlet II (Better than the Original). This tongue-in-cheek parody stays true, for the most part, to the plot of the original Hamlet, but along the way Bobrick pokes fun at just about everything, including the characters in Hamlet, political figures, class status, theatre traditions, and even Shakespeare himself!
Like the original, Hamlet II tells the story of a young man who must avenge his father's death by killing his Uncle. However, in this version, Hamlet is overly self-inquisitive, Ophelia has apparently been fooling around with almost everyone in Denmark, Gertrude has more than motherly affection for her son, the ghost of Hamlet's father acts more like George Burns than a Danish king, and Rosencrantz and Guildenstern have both been transformed into Groucho Marx. In the end, Hamlet manages to turn things around, but not before accidentally killing almost everyone in the castle!
The 13 member cast is comprised of Chowan University students and one local community member. The cast includes Austin Munden (Sophomore, Gates, NC); Silver Briscoe (Freshman, Washington, DC); Alexius Brandveen (Junior, Williamsburg, VA); Rodney Countryman (Junior, Henderson, NC); Joshua Toliver (Senior, Chesapeake, VA); Jasmine Snead (Junior, Suffolk, VA); Stacy Seacat (Junior, Eden, NC); Chelsea Murphy (Freshman, Connelly Springs, NC); Christian Suggs (Freshman, Greensboro, NC); Angelique Jackson (Sophomore, Newport News, VA); Christazja Rivers (Sophomore, Richmond, VA); Marlon Jacobs (Freshman, Newport News, VA); and Michael Hewitt (Woodland, NC).
The production is directed by Steven Harders, Associate Professor of Speech & Drama at Chowan.
Because of the style of comedy served up in this spoof, this production is intended for mature audiences.
Performances are Friday, November 21st and Saturday, November 22nd at 7:00 pm, and Sunday, November 23rd at 2:30 pm. Performances take place in Turner Auditorium in the McDowell Columns Building on the Chowan University campus. Admission is free and patrons are encouraged to arrive early.