Contact
Office of Advancement
One University Place
Murfreesboro, NC 27855
Establish a Scholarship
For many students at Chowan University, the importance of scholarships and financial aid cannot be overstated. Scholarship donors take great satisfaction in knowing they are helping worthy students.
Chowan awards over $1 million through the scholarship endowment program each year, making it possible for 100% of accepted students to receive financial assistance. There are over 300 scholarships representing the academic program, athletics, campus ministry, financial need, merit and leadership.
An Endowed Scholarship is a gift that keeps on giving and creates a permanent legacy for Chowan students. Endowed gifts are placed in a permanent fund and a portion of the income earned from that fund provides scholarship assistance to students each year.
A scholarship endowment can be established with any amount of money, and there is no limitation on time for its fulfillment. However, Chowan does encourage scholarship endowment donors to give a minimum of $25,000. Endowments at this level make a greater impact financially on the cost of attendance ($1250.00 annually in the form of a scholarship). Scholarships are not endowed until the corpus value reaches a minimum of $10,000. At that time, the scholarship is awarded (5% to a selected student recipient on an annual basis).
Annual Scholarship
Luncheon
The annual Scholarship Luncheon is held on the first Thursday in November. At the event, the donor and their student recipient(s) have the opportunity to become acquainted. Many donors follow their student recipient(s) throughout their Chowan career and serve as mentors; a mutually rewarding experience!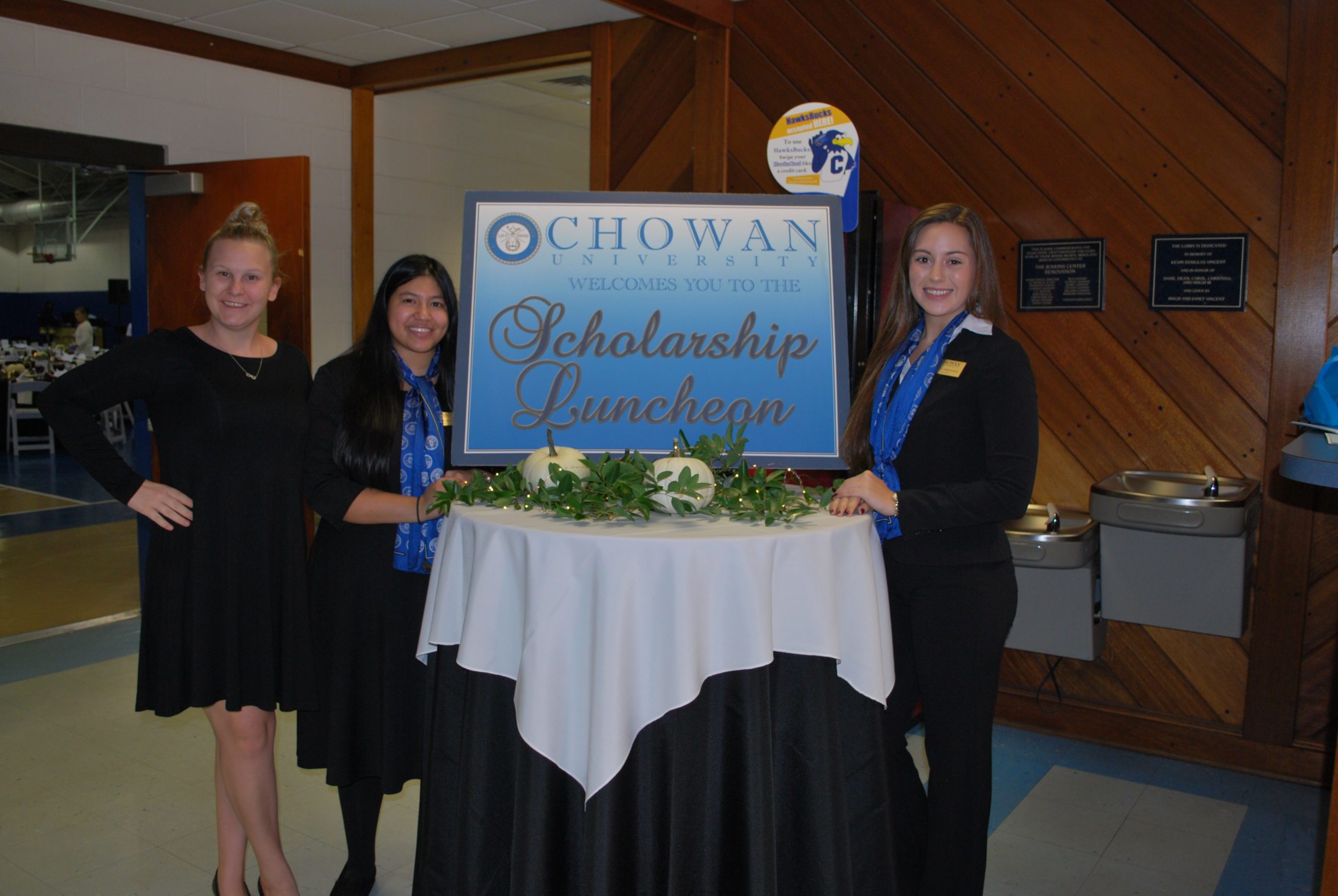 ---
Ways to Give
Online
Phone
Make your gift over the phone by calling 252-398-1233 any business day between 8:30 a.m. – 5:00 p.m.
Mail
To make a gift by mail send your check or money order to:
Chowan University
Office of Advancement
One University Place
Murfreesboro, NC 27855
In Person
Visit us in person any business day between 8:30 a.m. – 5:00 p.m or by appointment at the Early-Meyers Development House.
explore more