Alumni Event | The Power of Women of Country Music in Raleigh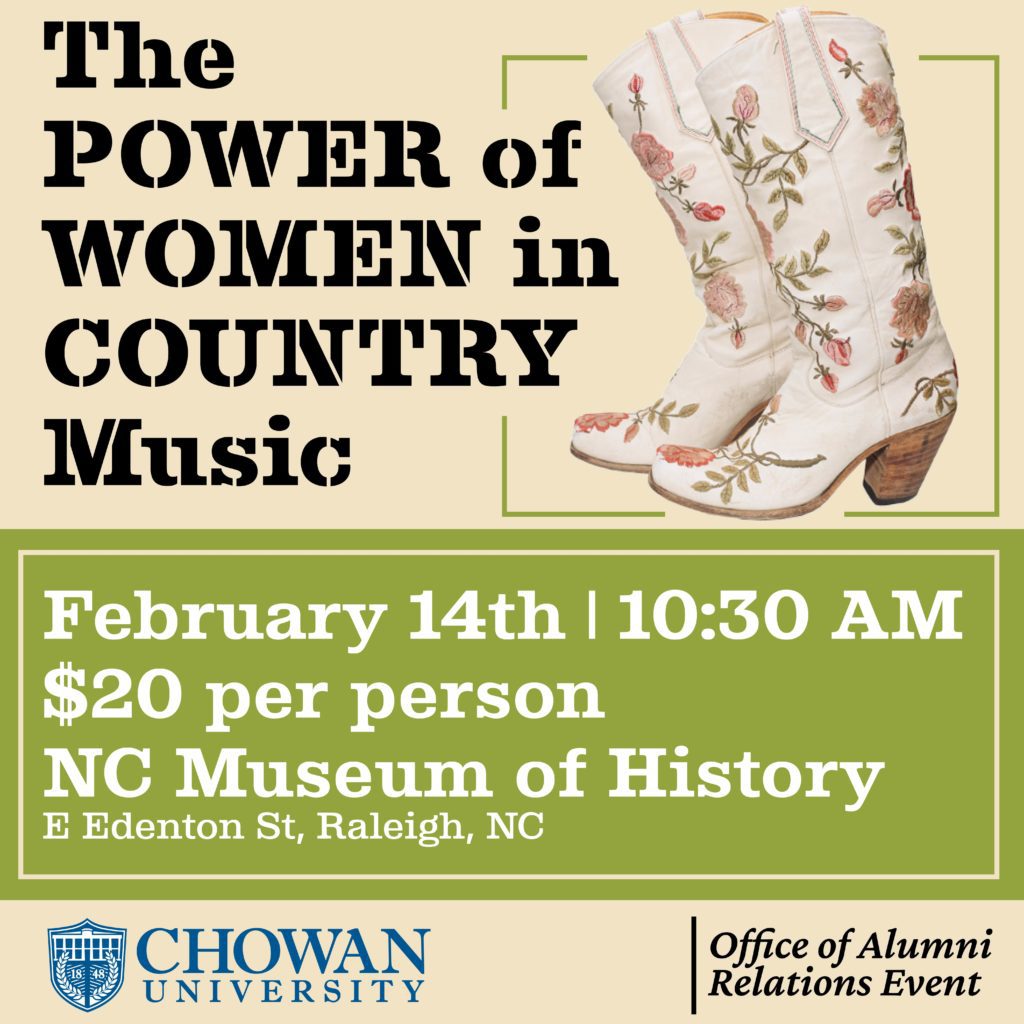 As a part of Chowan University's 175th Anniversary Celebration, the Alumni Relations Office invites you to attend "The Power of Women in Country Music" on February 14th. It will be a great opportunity to enjoy each other's fellowship and learn a little more about the magic of country music. Here are the details:
Shine your cowboy boots and dust off your hat for a hoedown at the NC Museum of History in Raleigh, sponsored by Chowan's Office of Alumni Relations. We are excited to have Paige Myers, a Chowan alum, as a host. See details below. We guarantee a "grand ole time."
Tuesday, February 14 at 10:30 a.m. at the NC Museum of History, 5 East Edenton St., Raleigh
Cost $20 per person – Includes Remarks by Paige Myers, and The Power of Women in Country Music exhibition
Paige Myers, textile conservator, has 25 years experience working with textiles (clothing, uniforms, quilts and flags) at the North Carolina Museum of History, as well as the National Museum of American History and Smithsonian Institution. She was a professional costumer with Raleigh Creative Costume and is currently a textile advisor to Hope Plantation, Windsor, NC. As a 1988 graduate of Chowan University, she has graciously agreed to host and share behind the scene information about bringing this exhibit to Raleigh.
About the exhibit:
From international superstars, including Emmylou Harris, Dolly Parton, Rosanne Cash, Shania Twain, and Taylor Swift, to contemporary North Carolina artists, such as Rhiannon Giddens, Rissi Palmer, and Kasey Tyndall, The Power of Women in Country Music, coming to the North Carolina Museum of History in Raleigh from the GRAMMY Museum® in Los Angeles, highlights the past, present, and future of country music's greatest female trailblazers.
Contact Kay Thomas, 252-398-6436 or thomak@chowan.edu for ticket information.