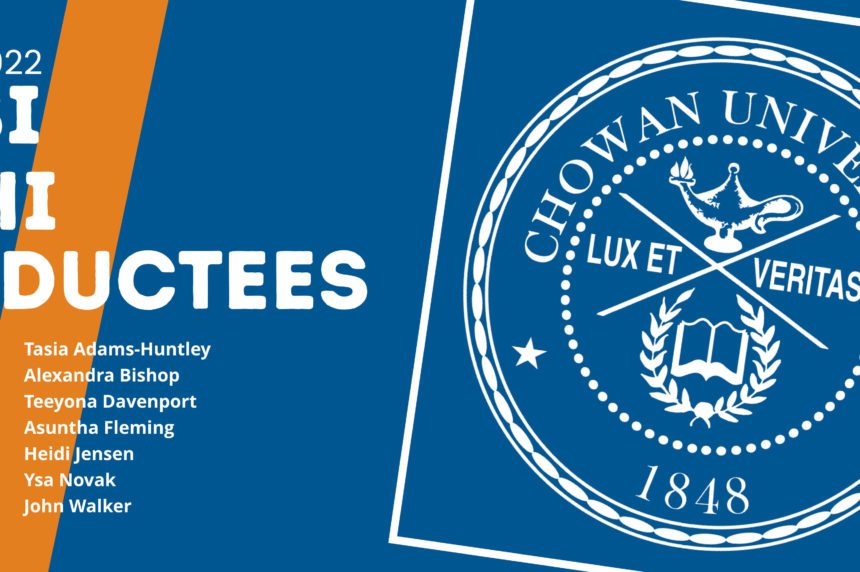 Chowan University Inducts Seven Students to Psi Chi International Honor Society
Nov 28, 2022
by Harri Lovett
MURFREESBORO, NC – On November 16 2022, Chowan University inducted seven students to the Psi Chi International Honor Society in Vaughan Auditorium, Marks Hall. Psi Chi is recognized as the primary honor society for junior and senior psychology students. 
To be considered for membership, the student must:
Be enrolled as a major or minor in Psychology
Have earned a cumulative GPA that is in the top 35% of their class
Have a minimum 3.0 GPA average for psychology courses
Earned an overall cumulative GPA of at least a 3.0
Demonstrated a high standard of personal behavior
Received a two-thirds affirmative vote from active members of the chapter
Leading the ceremony was Associate Professor of Psychology, Dr. Shirley Alt. In her remarks, Dr. Alt congratulated the seven students on their efforts within the psychology department and wider Chowan community, reminding them of their responsibilities as leaders of psychology on campus and as they embark on professional careers. 
The inducted students are listed below:
Tasia Adams-Huntley, Charlotte, NC
Alexandra Bishop, Beulaville, NC
Teeyona Davenport, Columbia, NC
Asuntha Fleming, Panaji, India
Heidi Jensen, Loveland, CO
Ysa Novak, Wesley Chapel, FL
John Vance, Virginia Beach, VA
Student President for the Chowan University Psi Chi International honor society, Nohemi Montalvo, was joined by Provost Moore and Dr. Alt in the pinning section of the ceremony, where students were also provided a certificate of recognition. Assistant Professor of Psychology, Dr. Mary Mitchell delivered the benediction to close the ceremony.
Chowan University would like to congratulate the students on their induction, and commitment to their studies within the psychology field.