Studio art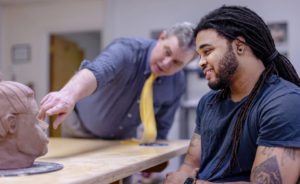 The Studio Art program at Chowan University is designed to provide students with foundations in visual arts practices and
understanding in aesthetic principles as they gain technical proficiency in a spectrum of studio media. Studio Art majors take courses in drawing, basic design, painting, printmaking, ceramics and sculpture. Students also learn to critically analyze works of art from different historical and cultural time periods and regions through the study of art history.
---
Most days I truly wish I could go back for some time and give back to Chowan for all the doors the community opened for me and for really just believing in me during moments I didn't even believe in myself.
---