---
---
People with a degree in religion go on to do pretty much anything and everything!
I chose the religion department simply to enjoy my studies and the opportunity to take classes that compelled me, made the work less daunting, the lectures more enthralling, and the rewards more life changing. Professors challenged me to explore topics free from the restraints of preconceived opinions, which lit a fire in me to pursue learning for the rest of my life. Passion filled discussions with classmates taught me how to be tactful and effective with my words. I was shown the beauty and validity in cultures, beliefs, and values different from my own, which cultivated respect and compassion that underlies my work as a health coach. Ultimately, a college major is much more than a degree. For me, it was the culmination of the people and experiences I let affect my life, instilling values and developing the perspective that has brought me to a life more fulfilling than I could have imagined.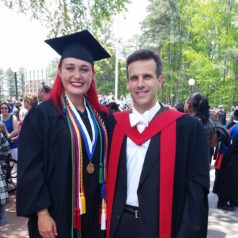 Jordan Burland Card graduated from Chowan University in 2015 with a double major in Mathematics and Religion. She was a catcher on the softball team. Today, Jordan lives in Imperial Beach, California, with her husband Blakeslee, and son Josh. A second child is on the way. She works as a Master Coach at 24 Hour Fitness.
---
When I matriculated into Chowan I started as an Adult Degree student but quickly found that I wanted more after taking one biblical studies class. The Religion Department classes not only intrigued me but challenged me as well. The instructors created brave and safe spaces for my fellow classmates and I to ask questions that burned deep within. Our classroom discussions, assignments, coupled with other lectures gave way for fresh perspectives of the world behind the text found in the sacred scriptures. In classes such as Intro to Islam, we learned to appreciate diversity in cultures and to honor our brother and sisters who may not share the same beliefs as we do. My tenure at Chowan truly taught me how to have "Faith in my Future." Since graduation I have gone on to complete three Master's degree programs (MDiv, MACE, M. Ed). I currently enjoy my position as a Transportation Area Manager (TAM) for Amazon while serving as second in leadership on the Outreach team at my local assembly, and voluntarily teach an interview preparation skills class at an urban ministry program in Richmond, VA. I wholeheartedly believe that Chowan's Religion Department prepared me for not just a life of ministry work but life altogether. I will always be grateful for the instructors, friends turned family, mission trips, and memories overall that made up my Chowan experience. I like to think that CU is the place that makes way for the birthing of the best of YOU. No matter where I go my heart will always beat for the white and blue.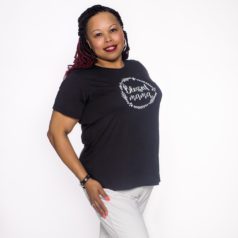 LaTisha Flood Anderson graduated from Chowan University in 2015 with a major in Religion. Today, LaTisha lives in Richmond, Va., with her husband, Deleon Anderson. After Chowan, LaTisha went on to earn master's degrees from the Virginia Union University Samuel Dewitt Proctor School of Theology. Currently, Latisha works for Amazon as Transportation Area Manager (TAM). LaTisha is a good example of the flexibility provided by a major or minor in Religion. You can go on to graduate school (in whatever field), and you can work for Amazon.
---
As someone who felt called to ministry since early high school, I began attending Chowan in 2015 in search of a program that could prepare me for student ministry. What I found in Chowan's Religion Department was so much more! I quickly found myself in classes that aided my abilities to think critically, read Scripture, and appreciate the rich theologies and traditions found throughout history. Though such classes were expected, my professors ensured that each subject was brought to life in ways that made me want to know more and explore beyond what was required. And Chowan was prepared for this expansion! I fondly recall my growth in classes such as "Jesus at the Movies," "Religion and Science," "Cross Culture Ministry," and "Intro to Islam" – among many others! I was even provided opportunities to visit the very places I studied, traveling with teams to Israel and then South Africa in 2016 and 2017 respectively. The religion professors at Chowan care about what they teach and about their students – and that changed my life! The Religion Department at Chowan University opened doors I would not have dreamed possible for myself ten years ago. Directly after graduating from Chowan in 2019, I became a Master of Divinity candidate at Duke University, where I graduated just this past May (2022). Today, I live in New York City, where I work as a counselor for the Renaissance Youth Center, a Bronx-based nonprofit organization! I love the work I do, and with each new day and challenge I am reminded of the holistic education Chowan provided me!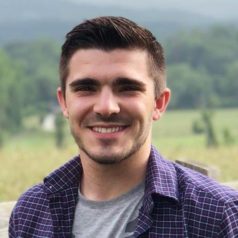 ---