---
The Magic of Chowan I have wonderful Chowan memories to last me a lifetime. The Columns decorated for the holidays, dogwoods blooming on a warm April morning, graduates lined up in their caps and gowns, my children, now adults, running through Squirrel Park on cool autumn days, students debating politics and history in the classroom, first-year students ringing the bell to signal the beginning of their Chowan career, and cookouts in my backyard are just a few. Chowan is a magical place. It is a place where students can dream and dare and do the things that it takes to make a difference. It is a place where students can discover wonderful things, think about big things, and even laugh at the little things. It is a place that introduces students to the world of learning and makes available to them new ideas. It is a place where students are no longer afraid to open doors of any description or in any location. It is a place that allows students to fine or refine their voice. It is a place that provides students with an opportunity to explore what they want to become. It is a place that inspires and challenges students. It is a place that is filled with special people dedicated to helping students discover a world of opportunities, build lifelong relationships, and develop a love for learning. It is a place that transforms our students—and that transformation is the magic of Chowan. I have witnessed Chowan work its magic many times. One example will suffice. About ten years ago a student's poor academic performance led to his suspension. Several years later, he pleaded for a second chance, and Chowan gave it to him. By now a father of two young children, he worked fulltime at night and took classes during the day. He finished his degree requirements, earning academic honors each semester. On his last day at Chowan, he walked into my office to tell me he was done, that he had made it. As I stood to welcome him, this big man threw his arms around me and hugged me. Then, with tears streaming down his cheeks, he thanked me. Since departing Chowan, this student has earned a graduate degree. He is now a full-time Chowan instructor. There lies the magic of Chowan. It lies in the relentless pursuit of excellence. It lies in the discovering of knowledge. It lies in second chances. It lies in the one-on-one relationships we have with each of our students. It lies in a professor or staff member willing to use his or her talent to teach and serve our students. It lies in that hug and those tears of joy. It lies in each Chowan student. It is always my hope that we create wonderful memories for all of our students. It is also my hope that each student experiences those magical Chowan moments—moments that not only change their lives, but touches their hearts, because such moments, in turn, touch ours.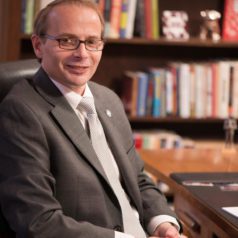 ---
THIS WEEK IN ACADEMIC AFFAIRS
ThisWeek in Academic Affairs (TWAA) published its first issue on January 17, 2003. Initially, it served as an avenue to provide academic updates and a listing of events. Since then, its mission has evolved to promote the academic activities and accomplishments of faculty, staff, and students in order to encourage a feeling of community and pride within the University. It provides coverage of academic events, educational opportunities, faculty and student achievements, university traditions, and a column entitled "Ponderings of the Provost." TWAA is emailed on a weekly basis during the academic year to faculty, staff, students, alumni, and friends of the University.
Ponderings of the Provost
"Ponderings of the Provost" is a column published weekly during the academic year in ThisWeek in Academic Affairs (TWAA). First appearing in a December 2008 issue of TWAA as a letter to students, it became a regular feature of the newsletter beginning in March 2009.
In "Ponderings," the provost shares his thoughts about academic and university events and issues of importance in higher education, the nation, and the world; his commitment and dedication to his faith, family, and Chowan; his love of reading, especially contemporary southern literature, and history; and his own story and how he uses his life experiences to advance the cause of students. Occasionally, the provost writes humorously about topics such as his introduction to Chowan, what a provost is, his interaction with faculty, snow days, and so on.