Office of the President
McDowell Columns Hall
One University Place
Murfreesboro, NC 27855
The role of the first lady
The role of First Lady at a college or university is not one that you go to school or are trained to do, nor are you elected or hired. It's a role that automatically comes with being married to a college or university president.
While this role is not an official employee of the University it comes with expectations and responsibilities. As an overall expectation, the First Lady is expected to contribute to the University in some way and support her husband's endeavors. Most of the time the First Lady will use her talents and passions to advance the University and the University community.
Meet the first lady
Chowan University's first lady, Rachel Peterson grew up in a military family spending most of her adolescence in Alabama. She attended then Lee College, now Lee University in Cleveland, Tennessee earning her Bachelor of Science in Biology with a pre-nursing emphasis and a minor in religion.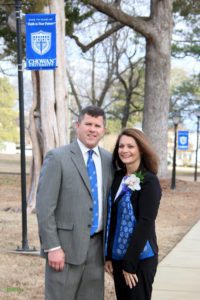 She began working in her father's dental office at 13 and continued until she was married in her early twenties. After graduating from college Mrs. Peterson worked as a paralegal in a prestigious Knoxville law firm continuing in the field as she and Dr. Peterson moved to western North Carolina.  In 2004 they moved to Murfreesboro and that is when she found her true passion of serving university students while working in Chowan's Whitaker Library. Having found her passion with students, when the Petersons relocated to Ohio in 2010, she served as a paraeducator and substitute teacher for Urbana City Schools. 
Now in her role as First Lady, she is living her passion for serving others. Her focus has been on the University's student life and the overall student experience. She is one of the inaugural sponsors of the H.E.L.P (Highly Encouraging Loving People) Club on campus which focuses on the service of others.  The club has participated in a variety of services from fundraising for campus activities, to providing exam study bags, working with Rotary on hurricane relief, and writing cards for nursing homes and first responders.  Mrs. Peterson also enjoys hosting students at the Camp President's Home as well as attending University functions and meetings, and ultimately supporting her husband, President Peterson.  Her contributions to the University go beyond the personal connections as she is instrumental in the processes of University design and decorations and every year enjoys bringing the joy of the Christmas season to life on campus through decorations. 
In the community, Mrs. Peterson who is a member of Murfreesboro Baptist Church currently serves as the Chair of the Board of Deacons and a Sunday School teacher for children in first through fifth grade.  On the first Tuesday of every month, she can be found volunteering with the Albemarle Food Bank greeting and registering recipients.  Mrs. Peterson is an active volunteer with the Murfreesboro Historical Association (MHA), including serving on the MHA Garden Party Planning Committee and serving as a Docent for the MHA Candlelight Christmas Tour. She serves on the Community Opportunity Task Force which was implemented to help create goals of what Murfreesboro needs now and in the future, such as riverfront development, sidewalks, potential bike paths, restaurants, and entertainment. Currently, they are working on getting a grant for the riverfront and sidewalks to encourage people to be more active and enjoy all that Murfreesboro has to offer.  As a member of Rotary, she works to serve and improve the Murfreesboro community. She also serves as a substitute teacher for Ridgecroft School.
Mrs. Peterson enjoys spending time supporting her and Dr. Peterson's three sons: Caleb, Cody, and Justin at athletic and educational events. 
---